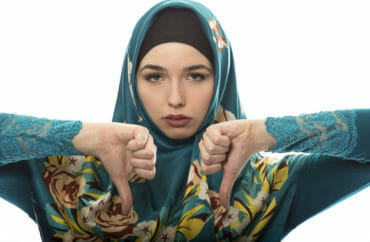 Early last month, the UCLA and Fresno State Army ROTC detachments held a training in which their "enemy" was garbed in "civilian clothes from Arab countries."
You can probably guess what followed.
The Daily Bruin reported that "professors and students at UCLA said the clothing is inaccurate and contributes to a misinformed understanding of Muslims and Arabs in the United States."
History professor James Gelvin noted the clothing "is not worn by any group that the United States is currently in conflict with," while law prof Khaled Abou El Fadl added "associating Muslims with violence creates a toxic environment for Muslim students and Muslim community members."
"A lot of (Muslims) that want to practice their faith and assert their religious identity constantly feel under siege and under suspicion, and this definitely doesn't help," El Fadl said. "It reaffirms all these Hollywood images of the bloodthirsty, stupid, Muslim terrorist. What is the difference between these images and the Hollywood images that we see? Nothing. It's very sad."
Zahra Hajee, the undergraduate student government Facilities commissioner and member of the Muslim Student Association at UCLA, said she is concerned that the images cadets see in training will translate into negative interactions with Muslim students on campus.

"If students within (the ROTC) program get reinforced with these ideas, … how would these students going about this campus interact with students of different faiths and different identities?" she said. "How would that affect their internal processing or judgments when it comes to meeting students within MSA, or just Muslim or Arab students in general?"

Ashraf Beshay, an international student from Egypt and president of the International Student Leadership Coalition, said he thinks the ROTC cadets dressing in Arab clothing perpetuates intolerance against Muslims and Arabs.

"As someone who has been racially profiled before, these are raw images to how this society continues to perpetuate images of Arab identity that directly translate into the lived experiences that Arab students and Arab community members have to go through with profiling and racism," he said.
Daily Bruin opinion columnist Omar Said echoed the sentiments of Hajee and Beshay, invoking the "safety" and "comfort" of students:
ROTC's cavalier attitude about Islamic ideas is damaging to Muslim Americans, and to the Muslim and Southwest Asian and North African students studying at UCLA. The university cannot expect these students on campus to feel safe or comfortable knowing that all it takes for them to be labeled an enemy combatant is to say an often used phrase or wear an outfit common in their country.

Training future military combatants is one thing; perpetuating discriminatory stereotypes is another. ROTC can certainly try to make amends for its actions during the spring cadet training, but the fact remains that it has only played into the continuing narrative of Islamophobia in the United States.
"Muslim students are already living in a hostile world," Said says. "The federal government has made it all but clear that people like them are not welcome here […]"
MORE: Pro-liberty Muslim's 'ills of Islamism' talk makes students 'unsafe'
MORE: Student suspended for debating Islamic extremism w/Muslim peer
IMAGE: Rommel Canlas/Shutterstock.com
Like The College Fix on Facebook / Follow us on Twitter