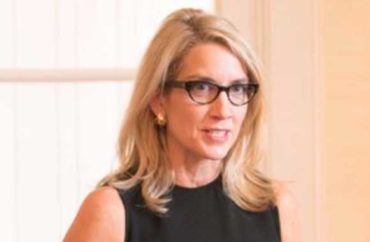 Professor accuses university of reducing her workload and salary to try to force her to resign
A UCLA management professor has sued the governing board of the University of California, claiming she faced retaliation for reporting alleged discrimination by her former supervisor.
Professor Jennifer Walske alleged in her complaint, filed last month, that she had been discriminated against after she reported sex discrimination by Senior Associate Dean Alfred Osborne, her former supervisor at the UCLA Anderson School of Management.
Walske (pictured) alleged Osborne "engaged in an improper relationship with a female subordinate, resulting in a hostile work environment for those female faculty and staff who were not in a relationship with him," according to the complaint.
Osborne's alleged "hostile" conduct toward Walske included criticism of her clothing and accusations that she had "name dropped," the complaint stated.
The complaint further alleged Osborne initially told Walske to remove "interim" from her "Interim Faculty Director" title, thereby making her position permanent, but walked this back at the request of the female subordinate with whom he was allegedly involved.
The management school did not reappoint Walske as interim director for the 2022–23 academic year, but she remains a professor at UCLA.
The complaint alleged a Title IX investigation found evidence of the relationship, but the lawsuit did not include a copy of the report.
"Discrimination or harassment in any form is antithetical to our values at UCLA and UCLA Anderson," Bill Kisliuk, the director of media relations for the university, told The College Fix in an email. "The UCLA Office of Equity, Diversity and Inclusion's Civil Rights Office undertakes careful and impartial reviews of allegations of misconduct reported to that office."
"At this time, we are not offering any additional comment beyond what is included in the complaint," Kerry Wright, a partner at Glaser Weil, the firm representing Walske, told The Fix via email.
The Fix also reached out to the governing board, also known as the regents, of the University of California but did not receive a response to a request for comment.
The Fix also emailed Osborne to ask about his alleged "improper relationship with a female subordinate," but has not received a response. Osborne retired from UCLA on June 30.
The Fix was unable to find contact information for the "female subordinate" mentioned in the complaint.
Walske alleges retaliation for reporting her concerns 
According to the lawsuit, Walske reported her concerns about Osborne to Brett Trueman, the Anderson faculty representative for Equity, Diversity and Inclusion. She also reported it in a campus climate assessment (referenced in pages 11–12 of the suit) that led to a Title IX referral, and in a whistleblower retaliation complaint (referenced on page 3 of the suit) submitted to the Office of the President of the University of California.
The Fix reached out to Trueman on July 10 to ask what actions he took in response to Walske's allegations, but has not received a response.
Walske faced whistleblower retaliation after making a Title IX report on Osborne's conduct, according to the complaint. The retaliation, Walske alleged, took the form of unfavorable employment decisions supervised in part by Osborne.
First, the management professor claimed UCLA Anderson delayed sending her a "contract outlining her schedule and salary" while Osborne decided on her employment future.
Walske's complaint also stated that shortly after she received her contract as Interim Faculty Director, officials at the management school abruptly issued her a revised contract that, without explanation, terminated one of her classes and reduced her salary by 15 percent. Later, the school denied her a merit pay raise despite support from fellow faculty because "Osborne refused to provide any comment on her performance," the lawsuit alleged.
The suit also alleged that Walske was not interviewed for a permanent faculty director position, despite the fact that Mohammed Cato, the director of UCLA's Title IX office, allegedly told her supervisor that failure to interview Walske for the position "could be viewed as retaliation for her participation in the Climate Assessment and resulting Title IX investigation."
UCLA Anderson allegedly later emailed Walske "a contract that stripped her of the classes most associated with her research, the impact courses, resulting in a significant reduction in salary." According to the complaint, this alleged retaliation was "obviously hoping to secure Dr. Walske's voluntary resignation."
Walske alleged her salary was then "reduced further to one-fifth of her regular pay, without any explanation," and that the department threatened to interrupt her health insurance "if she did not move out of her office and sign a settlement agreement."
Walske's lawsuit is one of at least two filed within the last year that alleges misconduct at UCLA's business school.
In finance and accounting lecturer Gordon Klein's lawsuit against the regents, filed last fall, he sued administrators after they removed him as a lecturer, allegedly for refusing to give black students preferential grading treatment in the wake of George Floyd's death.
"Because litigation is pending, I regret that I cannot comment at this time," Klein told The College Fix in a recent email.
The Regents of the University of California did not reply to The Fix's request for comment on Klein's lawsuit.
MORE: UCLA removes lecturer for questioning proposal to give black students preferential grading
IMAGE: @JenniferWalske/Twitter
Like The College Fix on Facebook / Follow us on Twitter