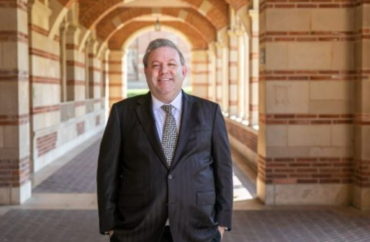 Los Angeles County Superior Court Judge H. Jay Ford III recently ruled against entirely dismissing a lawsuit filed against UCLA by accounting lecturer Gordon Klein, who would not implement a lenient race-based grading system in the immediate aftermath of George Floyd's death.
The judge, in his March 30 ruling, did allow some causes of action lodged against the University of California system regents and UCLA Dean Antonio Bernardo to be dismissed, but allowed several others to proceed. A jury trial has been scheduled for April 2023.
Ford stated in his ruling that Klein has provided evidence that "would support judgment in his favor" regarding his breach of contract, false light and labor code violation claims.
Cornell law Professor William Jacobson, in explaining the ruling, noted UCLA had sought dismissal of the case under California's anti-SLAPP protections, "which provides an expedited process for adjudication of whether the claims fall under the statute."
Jacobson said the ruling means UCLA's avenues for avoiding a jury trial are small.
"While I don't think that precludes later motions practice, there already has been a review of evidence by the court and the court found that the claims are legally cognizable. So it's unclear to me what the path would be to get the remaining parts of the case dismissed prior to trial," he wrote on his Legal Insurrection blog.
Following Floyd's death, Klein received a request from a non-black student asking that he provide academic leniency for black students under emotional duress at the time.
Klein responded June 2, 2020, by asking how he was supposed to identify black students in the online class; whether he should also go easy on white students from Minneapolis; how much leeway to show half-black students; and how the student feels about Martin Luther King Jr.'s admonition to not evaluate people based on "the color of their skin."
A screenshot of Klein's response was distributed widely, prompting Dean Antonio Bernardo to denounce him in a June 4 memo stating Klein was suspended.
Judge Ford ruled against UCLA's argument that alerting the public of Klein's suspension was within its First Amendment rights, as Klein is under a union contract that protects his employment privacy.
And he ruled in support of Klein's cause of action that UCLA cannot retaliate against him for following the law, in this case refusing to engage in race-based discrimination.
The judge also ruled the June 4 email put Klein in a false light because it implied he was placed on administrative leave for failing to provide a safe, respectful and equitable environment, abuse of power, and unfairly treating or maligning people because of their identity.
UCLA argued Klein was suspended for possible violations of the faculty code of conduct. He was eventually exonerated and reinstated. Klein, who joined the Anderson School in 1981, continues to teach as a lecturer there.
"A reasonable fact finder could conclude that the June 4, 2020 email implies a provably false assertion of fact," Judge Ford stated. " … Implying [Klein's] administrative leave was a form of disciplinary action for his June 2, 2020 exchange or any alleged violation of UCLA's core principles was false."
Judge Ford also allowed a cause of action against Dean Bernardo personally to stand.
"As to Defendant Bernardo and the immunity provided to public employees under Section 822.2, the Court cannot find as an issue of law that Bernardo did not act with actual malice," Ford stated.
"… Bernardo's email juxtaposed announcement of Plaintiff's leave with statements condemning certain conduct as unacceptable and encouraging anyone who is unfairly treated or maligned due to identity to report it. Reasonable minds could conclude that Bernardo acted negligently, knowingly or recklessly in creating the false impression that Plaintiff had been disciplined for his June 2, 2020 email exchange."
Bernardo has since testified under oath he has always believed the memo to Klein seeking lenient grading was a request on behalf of all students, not just black students.
Klein declined to comment to The College Fix this week on the ruling. Bernardo referred a request for comment to UCLA's media affairs division.
"The rulings last week in no way addressed the question of punitive damages. The court dismissed some of Professor Klein's causes of action, and made no final rulings on the merits of any of the remaining claims against the university or Dean Bernardo," UCLA spokesman Bill Kisliuk told The College Fix.
Last fall, Klein wrote an op-ed explaining the motivation for his lawsuit and why he seeks both compensatory and punitive damages.
"You see, most of my income comes not from teaching at UCLA but from consulting to law firms and other corporations. Several of those firms dropped me after they got wind that I'd been suspended — the better to put distance between themselves and a 'racist.' That cost me the lion's share of my annual income," he wrote.
MORE: UCLA removes lecturer for questioning proposal to give black students preferential grading
IMAGE: Foundation for Individual Rights in Education
Like The College Fix on Facebook / Follow us on Twitter