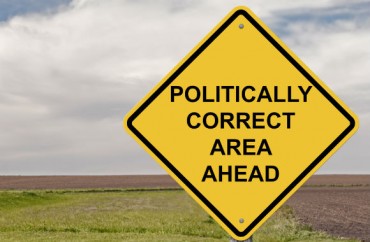 In what may be a perfect encapsulation of the current era of race-speak, the copy editor of UCLA's The Daily Bruin used a lengthy screed to explain why the paper is now using "Black" (capital "B") but keeping "white" (lowercase "w").
Sara Hubbard brags the Bruin beat the Associated Press Stylebook in capitalizing "Black" by two weeks because it "firmly believe[s] that the nuances of language and words make a difference."
And after George Floyd's death, the Bruin had to act.
"Copy editors adjust capitalizations all the time," writes Hubbard. "But rarely does that decision play a role in righting injustices."
The AP's vice president for standards announced on June 19 it was now using "Black" due to it "conveying an essential and shared sense of history, identity and community among people who identify as Black."
Hubbard points out the change actually is something of a re-institution: In the 1920s, W.E.B. Du Bois got The New York Times to capitalize "Negro," but that adjustment was dropped when the paper began using "black."
So … where does that leave the term "white"?
Though your average layman likely couldn't care less either way, Hubbard says this matter was "much foggier and contentious." To not capitalize the word could imply bias.
Two individuals from the UCLA Center for the Study of Social Policy claim it's actually anti-Black to not use a capital "W" on "white":
"To not name 'White' as a race is, in fact, an anti-Black act which frames Whiteness as both neutral and the standard," say Ann Thúy Nguyễn and Maya Pendleton. "Moreover, the detachment of 'White' as a proper noun allows White people to sit out of conversations about race and removes accountability from White people's and White institutions' involvement in racism."
(Nguyễn and Pendleton hold master's degrees in sociology/studio art, and government/African American Studies/Gender Studies respectively.)
Nevertheless, the AP (for now) is keeping the term "white." Which means so too is The Bruin.
Hubbard explains:
Capitalizing white, we believed, is unlikely to be the solution to complacency among white people in racial injustices. Additionally, its ties to white supremacist groups in the capitalized form are too strong for us to be comfortable adopting the same style.

While this could seem like unequal treatment, the fact is that white people and Black people have vastly different histories in America that make the considerations that go into decisions of this kind less obvious and more nuanced.

Many Black people in America today are descendants of slaves who involuntarily had their cultural history – including the country in which they were born – rendered indiscernible. They don't necessarily have the privilege many white people do of knowing their precise heritage and being able to be referred to specifically by the country their family is from.
The standards certainly could change again, Hubbard concludes, and adds that even though copy editors aren't directly involved in "reporting on issues of racial inequality and injustice," they still are responsible for "representing the Black community and righting wrongs."
h/t to Gary Fouse.
MORE: Princeton editor-in-chief calls out hypersensitive, PC peers
MORE: Book publishers now hiring 'sensitivity readers' to look for 'offensive' material
IMAGE: Shutterstock.com
Like The College Fix on Facebook / Follow us on Twitter