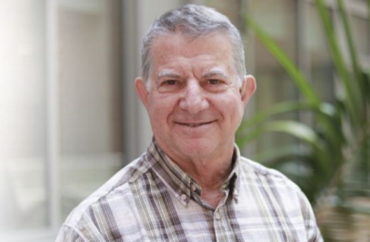 Eliezer Gafni, the recently appointed chair of University of California Los Angeles's Computer Science Department, has barely completed his first month on the job and students are already calling for his replacement.
Their complaints include that as interim chair he "demonstrated conscious disregard for the racialized experiences of people of color in the United States," a petition for his removal states.
It adds he showed "explicit disdain for transparent, open communication between students and the administration in an exchange with students and faculty regarding the usage of the term 'Wuhan virus' as an identifier for COVID-19."
The incident in question took place during the spring 2020 semester over a listserv, but the petition was launched in August after Gafni was named permanent department chair.
The petition, "Replace UCLA CS Department Chair Eli Gafni," has reached 1,600-plus signatures in three weeks.
The Israeli-born engineer, who has won several computing awards and recognitions over the years, drew the ire of peers and students during an electronic conversation that started after a student asked another professor to refrain from using the term "Wuhan virus," screenshots of the discussion show.
Coupled with the petition is an eight-page letter to the deans of both the engineering and computer science departments asking for Gafni's removal as chair. The letter was signed by more than 60 UCLA student organizations.
According to screenshots of the incident during the spring semester, Gafni told a student that by claiming that the term "Wuhan Virus" could be offensive, it made "a political issue out of it." He followed up his statement by adding "What is 'sensitive' to you might feel like PC police to others."
Gafni, and the department, apologized for the incident shortly after it took place.
In his remarks, Gafni said he was unaware that some blamed "ethnic Chinese" for the virus and that there were some related incidents of violence, adding "my sincere apology for not knowing this and treating it as such."
Professor Todd Millstein, vice chair for grad studies at UCLA's computer science department, also told students in an email at the time that, "Earlier today, Professor Eli Gafni wrote to apologize regarding his remarks relating to the COVID-19 virus. We write this email to express our sincere apologies as well. We stress that all are welcome in this department, regardless of country of national origin, race, color, religion, gender, age, sexual orientation or identity, disability, or genetic background."
Millstein ended the note with the contact information for UCLA's Counseling and Psychological Services.
Comments on the petition suggest many remain unappeased.
"I'm signing because we can't create an inclusive and collaborative atmosphere under a chair who believes in demonizing whole groups for political purposes," replied one commenter.
"Someone who is immature and insensitive should NOT be considered for a higher position. … Students who'll learn from him must not go through unfairness," added another.
Along with replacing Gafni, the petition and letter call for inclusion of student input in new hiring decisions, and a commitment from the school to only hire individuals who are committed to diversity and inclusion.
As The College Fix has previously reported, more and more schools across the country are beginning to release similar diversity declarations.
Meanwhile, criticism of Gafni has also spread across the internet as commenters on a trending Reddit post continue to add fuel to the fire.
"Totally agree he was the least caring professor I have ever had. I was appalled to see him get that position," a student noted on the post.
"Always thought this guy was a dick. I asked him for advising my freshman year and he replied 'dog ate your homework? Should've emailed me at the beginning of the quarter,'" shared another.
In a statement provided to Campus Reform last month, Gafni reportedly said: "It would have been nice if those concerned would have asked to Zoom with me and try to clarify before they pass judgment by circulating a petition. You expect more from students who are supposed to have acquired some critical thinking, not to behave like a FOX TV crowd, only on the opposite side of the spectrum."
UCLA media affairs did not immediately respond to a request for comment Thursday from The College Fix.
When asked by The College Fix if he would be willing to provide a comment on the matter, Gafni replied simply, "Nop. Sorry." [sic]
MORE: Syracuse professor put on leave, under investigation for using term 'Wuhan Flu'
IMAGE: UCLA screenshot
Like The College Fix on Facebook / Follow us on Twitter