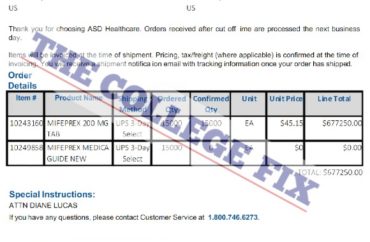 UPDATED
'I'm sure many Massachusetts citizens do not agree with this abuse of power, and yet they are forced to pay for things that are objectively wrong,' pro-life leader says
The University of Massachusetts Amherst paid $677,250 for a stockpile of 15,000 abortion drugs, according to a contract obtained by The College Fix through a public records request.
The request came after Democratic Governor Maura Healey asked the university to do so because of fears that a federal court might block the Food and Drug Administration's decision to make the mifepristone drug easily available, according to a university news release.
The Fix reached out to UMass Amherst via email and asked about the source of the funding, if it plans to distribute the abortion drugs to students and how this action aligns with the school's mission. It has not responded to two requests for comment in the past two weeks.
Massachusetts public universities must distribute or work with a third-party to hand out abortion drugs on college campuses after the state's last governor, liberal Republican Charlie Baker, signed the mandate into law in 2022.
Marty Meehan, president of the University of Massachusetts system, said the decision was "student motivated," according to the Boston Globe.
Governor Healey's office also did not respond to multiple emailed requests for comment on the funding source for the purchase and why a university bought the drugs instead of a state agency.
An international pro-life group based in the United States criticized the decision.
Human Life International's president noted that the university's news release did not mention that "mifepristone kills preborn children and harms women."
"Instead, the article is dressed up in euphemisms and oxymorons like 'health care,' 'abortion medication,' 'safe and effective' and the like," President Shenan Boquet, a Catholic priest, told The Fix via email. He has degrees in theology and bioethics.
In addition to the physical risks of taking the drugs, Boquet said there are "psychological effects of this terrifying experience" including "shock, anxiety, depression, suicidal ideation, and many others."
MORE: NY governor signs law to help students abort babies
He said he would tell the campus administrators that he is "concerned about preborn children and women."
"The approach of UMass authorities is more concerned about their political and ideological goals than about the well-being of women and preborn children," Boquet told The Fix. He said he would "respectfully" ask the university "to please consider the facts relating to the use of this dangerous drug cocktail."
He further criticized the university's approach.
"I'm sure many Massachusetts citizens do not agree with this abuse of power, and yet they are forced to pay for things that are objectively wrong," he wrote. "Universities are not equipped to dispense such powerful drugs, and a college dorm is no place to have a do-it-yourself abortion. RU–486, the cocktail of mifepristone and misoprostol – are dangerous drugs and put women and girls in harm's way."
"Moreover, American taxpayers should not be paying for the destruction of innocent human life on our college campuses and universities," he told The Fix.
"This move also sends a terrible message – that you can engage in fornication without the slightest consequences (except an occasional death, which is inevitably covered up)," he said. "This is the entire goal of 'progressivism"– to be certain that people are entirely insulated from the personal impact of the evil and often very irrational things that they do."
He called the availability of abortion drugs "absolutely crippling to spiritual development."
MORE: Instructor who trashed pro-life display threatens reporter with machete
Like The College Fix on Facebook / Follow us on Twitter