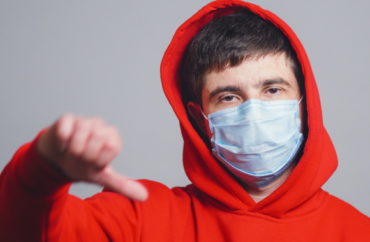 The University of Massachusetts Boston on Monday announced that mask mandates are back.
Administrators cited the rising cases of COVID in the area as the reason even though "on-campus transmission has remained low and our very highly vaccinated population continues to have strong protection against severe disease," the announcement stated.
"[W]e nonetheless will continue to follow the CDC guidance. UMass Boston will reinstitute our indoor mask requirement on Monday, January 9," it stated.
"Our mask requirement applies to all individuals regardless of vaccination status and the requirement applies in all indoor settings (including campus shuttles) as well as in crowded outdoor settings," it added.
MassLive reported that the Centers for Disease Control and Prevention "designated 10 of Massachusetts' 14 counties — including Suffolk, home of UMass Boston — as 'high risk' from COVID, based on new cases and the capacity of local hospitals to treat COVID patients."
Massachusetts isn't alone.
Duke University in North Carolina may bring back its mask mandate if COVID-19 levels remain high, ABC 11 reported.
"ABC11 obtained an email sent to students, faculty and staff Monday afternoon about the possibility of reinstating mask requirements on campus," the news station reported.
"The emails said that the Centers for Disease Control and Prevention had moved Durham County into the high risk classification for COVID-19. If that holds steady for two or more weeks, the university plans to reinstate the mask mandate."
Gavilan College in central California is requiring masks indoors from Jan. 3 through Jan. 13, its website states.
"To protect everyone's health, we will require all employees, students, and visitors to wear masks inside Gavilan College buildings," the college stated. "Additionally, during these dates, all large meetings, except in-person classes, will be held via zoom with employees logging in from their offices. This decision was made in consultation with our faculty and CSEA leadership."
Good Morning America reported K-12 schools are increasingly also requiring masks again, including Ann Arbor Public Schools in Michigan, which instituted a two-week mandate that runs through Jan. 20.
MORE: CSUN bigwigs go maskless at ceremony, students required to wear masks
IMAGE: Fantom / Shutterstock
Like The College Fix on Facebook / Follow us on Twitter