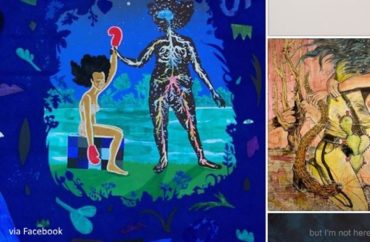 BOSTON — Two years ago, the University of Massachusetts Boston opened an art gallery aimed at promoting "plurality" and "interdisciplinary practices."
So far, its walls have often been adorned with art that advances progressive themes and social justice causes.
The gallery's curator is Sam Toabe, who's held the position for two years. He told The College Fix via email that political art is one of his primary interests.
"I am interested in social justice, and do tend to enjoy and present art that is overtly activist and progressive in its actions and projections, or is political in nature," Toabe said.
Toabe's taste in art includes a painting he prominently displays in his office with the words "Destroy Capitalism." The painting is part of a collection by Pat Falco mocking American capitalism. Falco's art has been exhibited in the gallery.
One of Toabe's first exhibitions, "Political Discourse," was put on in 2016. It brought together "artists from the LGBTQ community, artists of color, immigrant artists, and female artists," according to a description of the exhibit on the university's website.
Some paintings centered around the Black Lives Matter movement, while others, such as "La Malinche sin Querer," displayed overtly sexual images, such as a cactus figure engaged in sex with a human female.

"I would say that my political ideology lies outside the two party system in the states, but as an Independent, I identify more with the Democratic Party's platforms, especially ones that lend to government support of social programs not unlike how the state supports the UMass system," Toabe told The College Fix. "It is part of why I love working at UMass, for its accessibility, its diversity, and its progressive mission."
At the beginning of 2018, Toabe put together an exhibition titled "HARD: Subversive representation."
Writing for the Boston Globe, Cate McQuaid described that collection by noting the "world still revolves around the male gaze, and a lot of the art here addresses the bruising that comes with asserting difference and claiming a space apart."
And according to a description of the exhibit by Joelle Jameson, a writer living in Boston, it brought together "17 self-identified female artists, each depicting a female subject through varied media and interpretative approach, and invites the viewer to consider how these depictions may challenge the way we're accustomed to seeing female representations in art."
Nearly all of the paintings were sexual in nature, including a very large close-up of a the female genitalia. But viewers are expected to dissociate "pornographic images from their original context and the male gaze, magnifiying them and using paint and airbrushing techniques to form a more egalitarian shape," Jameson wrote.
"The cunt in question is explicitly 'ersatz'—not real, a performance. But it exists, here, by itself, with no male accessory, obtrusive and demanding reverence," Jameson added.
The current exhibit, called "Dreams Within," represents works by 26 incarcerated artists from across the United States, "many of whom use art as a meditative healing practice while serving sentences in prison," according to the university's website.
Other exhibits from the past two years have included various student artwork, a reception and fundraiser in honor of American watercolorist Richard Yarde, and a showcase of Japanese art titled "Crossing the Centuries: Bridging Cultures."
MORE: College refuses to show faculty artwork that depicts Trump in graphic sex acts
MORE: GWU art administrator curates 'Queer[ing] Pleasure' LGBT exhibit
MORE: University art exhibit focuses on the 'politics of black hair'
Like The College Fix on Facebook / Follow us on Twitter