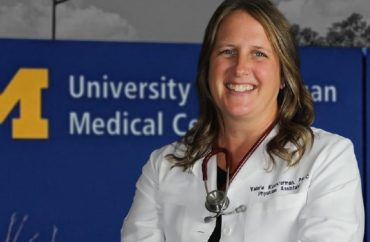 Hospital system defends its firing of her
University of Michigan Health-West illegally fired a physician's assistant and berated her over her faith after she objected to using pronouns and potentially participating in transgender drugs and surgeries for gender-dysphoric patients, according to a federal lawsuit.
Valerie Kloosterman worked at Metropolitan Hospital without any conflicts between her religious beliefs and medical services until University of Michigan-West merged with the organization in 2021.
But then hospital officials "attempted to compel Ms. Kloosterman to pledge, against her sincerely held religious convictions and her medical conscience, that she would speak biology-obscuring pronouns and make referrals for 'gender transition' drugs and procedures," according to the lawsuit, filed by First Liberty Institute.
Administrators did this through "mandatory diversity training and hostile discussions," according to the complaint.
"Yet during the entire duration of her employment, no patient ever asked her for a referral for such drugs or procedures, and she never used pronouns contrary to a patient's wishes," the lawsuit stated.
However, health officials later fired her after she requested a religious accommodation, according to the lawsuit. Administrators allegedly called her "evil" and a "liar" and "mockingly told her that she could not take the Bible or her religious beliefs to work with her, and blamed her for gender dysphoria-related suicides."
MORE: No conservatives on UMich 'diversity of thought' panel
An attorney for First Liberty told The College Fix via email that the fired healthcare worker is "seeking reinstatement of [her] job and damages to compensate for her losses.
"Michigan Health needs to stop discriminating against religious healthcare providers and to make clear to its employees that the law protects their ability to seek religious accommodations," Associate Counsel Kayla Toney wrote in an emailed statement.
When asked about what rights employees have when it comes to issues like personal pronouns and participation in transgender surgeries and drugs, Toney responded and said that "the Free Exercise Clause of the First Amendment protects government employees from hostility or disfavored treatment because of their religious beliefs."
Toney added that "the Free Speech Clause of the First Amendment protects government employees from being forced to speak pronouns or messages that violate their religious beliefs."
First Liberty has "several clients with sincerely held religious beliefs that conflict with workplace trends," the attorney said.
The Fix asked if she expected more lawsuit as LGBT identification increases.
"Both the Constitution and federal law protect religious employees in the workplace, but employers need to respect this by providing religious accommodations and ensuring that policies about 'diversity, equity, and inclusion' include religious employees too," she told The Fix.
The healthcare organization defended its firing of Kloosterman and said it expects to win in court.
"University of Michigan Health-West is committed to providing appropriate medical treatment to all patients and respects the religious beliefs of its employees," Chris Zoladz, a spokesman for the healthcare system, told The Fix.
"We are confident Ms. Kloosterman's claims, like those she filed with the Equal Employment Opportunity Commission, are without merit," Zoladz said.
MORE: University of Michigan launches post-Roe 'task force'
IMAGE: First Liberty Institute
Like The College Fix on Facebook / Follow us on Twitter