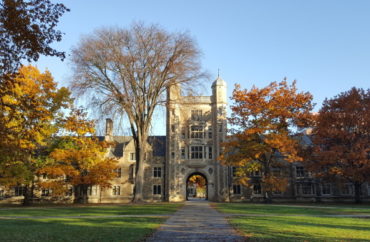 The University of Michigan recently hired five faculty members under its Anti-Racism Faculty Hiring Initiative who have "expertise in inequality and structural racism," campus officials announced.
The faculty will deepen the university's expertise "on issues of race and racial justice and tangibly impact education and society," according to an Oct. 28 statement by the university.
One of the focuses will be using "data science methods to detect, understand and reduce structural racism within health care, as well as racial health care disparities," officials stated.
The five faculty members are part of a larger goal, announced earlier this year, to eventually hire nearly two dozen new "anti-racism" scholars at Michigan's flagship university.
A university spokesperson could not be immediately reached by The College Fix this week asking about the overall costs of the initiative.
Mark Perry, a scholar with the American Enterprise Institute and professor emeritus of economics and finance at the University of Michigan Flint, told The College Fix via email that "most colleges are spending way too much money on DEI efforts."
He called it "incredibly wasteful."
"[T]hose efforts are part of advancing the new DEI religion in higher education and directly contradict the core mission of a university – to educate students, teach critical thinking and expose them to intellectual diversity," Perry said via email.
In Perry's latest analysis of "diversicrats" at the University of Michigan, he found 126 employees at the school dealing with diversity, equity and inclusion in some way, with a total compensation estimated at $15.56 million for the 2021-22 academic year, enough money to recompense over 900 in-state student tuition bills.
"Those misguided and expensive DIE resources could be better spent by reducing tuition instead of feeding new layers of costly administrative bloat that end up getting passed along to students in the form of higher tuition and fees," Perry stated.
The five new faculty members are: Antonio Cuyler, professor of music in the School of Music, Theatre and Dance; Sherina Feliciano-Santos, associate professor of anthropology in the College of Literature, Science, and the Arts; Beatriz Manzor Mitrzyk, clinical pharmacist specialist and assistant professor of pharmacy in the College of Pharmacy; Megan Vaness Threats, assistant professor of information in the School of Information; and Emilia Yang, assistant professor of art and design in the Penny W. Stamps School of Art & Design.
This is just the first wave of hires expected to join the college's staff under the anti-racism initiative.
"I feel that this is really, really exciting work, and work that is going to change the university in a fundamental way," stated David Gier, dean of the School of Music, Theatre & Dance, in the university's news release.
The University of Michigan launched its Anti-Racism Faculty Hiring Initiative earlier this year with the hopes of supporting "new and existing scholars whose research focuses on anti-racism, racial equity and racial justice."
The program is committed to hiring a total of 21 new staff members dedicated to building knowledge and advancing diversity, equity, and inclusion.
"Efforts are underway to fill the initiative's remaining 16 positions. Hires can be made up to three years after a proposal is selected for funding," the university stated Oct. 28.
Even before the University of Michigan established its anti-racism program, the college was already ranked as one of the most DEI-bloated colleges in America, according to a Heritage Foundation report.
MORE: 96 percent of election contributions from Michigan faculty go to Democrats
IMAGE: Dark Vadar / Shutterstock
Like The College Fix on Facebook / Follow us on Twitter