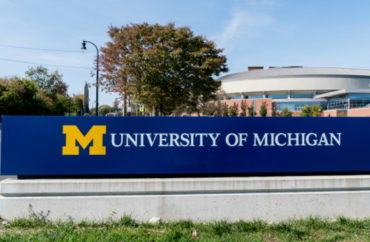 ANALYSIS: More than 96 percent of Michigan college donations go to Democrats, compared to less than 3 percent to Republicans.
Over 96 percent of all donations from faculty at Michigan universities during the 2022 midterm election cycle went to Democratic candidates.
Professors at nine of the largest colleges in Michigan gave just over $850,000 to political candidates and political action committees across the country, about $820,000 of which went to Democrats, according to data from the Federal Election Commission analyzed by The College Fix.
Approximately $21,000, or 2.5 percent, went to Republicans, while the remaining went to independent candidates, PACs that had not donated candidates for federal office in recent years, or PACs that gave evenly to Republicans and Democrats.
Michigan has become a battleground state in the midterm elections and may serve as a bellwether for future ones. The polls are tightening in its gubernatorial race between incumbent Democrat Gretchen Whitmer and Republican challenger Tudor Dixon.

The state is also home to the most expensive congressional race in the country in its seventh district, where Democratic incumbent Elissa Slotkin and Republican Tom Barrett have raised a combined $27 million.
Few professors gave directly to the campaigns of those candidates, but most gave to platforms such as ActBlue or WinRed, which serve as conduits for supporters to send money to Democratic and Republican candidates and PACs.
Approximately half of all donations came from faculty at the University of Michigan, the largest college in the state. Of its over $475,000 donated, 98 percent went to Democrats.
"In their private capacities, individuals, including those who are members of the University of Michigan community, may participate fully in political activities, provided they are acting on their own behalf and using their personal time and resources," Associate Director of Public Affairs Kim Broekhuizen told The Fix in an email. "This includes donating money to support or oppose a ballot initiative or political candidate."
MORE: UMich 'diversity of thought' event did not include any conservatives
"For those reasons, the University of Michigan does not monitor the political contributions of its employees, but we do make it clear through regular communications to employees that they may not use public resources to engage in political activities for or against a candidate or ballot initiative," she continued.
There is no indication that any professor used public resources to give to any campaign.
At Central Michigan University in Mt. Pleasant, almost 99 percent of its faculty's nearly $22,000 donated went to Democrats.
"Central Michigan University is a public institution supported by public revenues and does not issue statements nor engage in activities that violate its posture of institutional neutrality with respect to partisan issues," Director of Communications Aaron Mills told The Fix in an email.
"Individual students, faculty and staff members," he said, "are private citizens who have the right to contribute to political candidates, campaigns and committees. Central Michigan University does not collect information on or track what individual employees (faculty or staff members) or students choose to contribute."
The Fix contacted all the schools analyzed for comment, but only U-M and CMU responded.
The two universities whose faculty members gave the most to Republicans were Eastern Michigan in Ypsilanti and Wayne State in Detroit. Faculty at the former donated about $4,500, 16 percent of its total, to Republicans. Fourteen percent, about $11,000, of the total donations from the latter went to GOP candidates.
These two were the only schools whose faculty donations to Republicans exceeded ten percent. Although they are both much smaller in size than U-M, both gave a greater total amount to Republicans than professors at the state's largest college.
During the 2020 election cycle, 94 percent of faculty donations at colleges in Michigan went to eventual President Joe Biden, another analysis from the Fix found. Ninety-six percent of Ivy League donations in the 2022 midterms went to Democrats, according to a more recent report from the Fix.
MORE: 95 percent of North Carolina professor donations went to Democrats
IMAGE: Ken Wolter / Shutterstock.com
Like The College Fix on Facebook / Follow us on Twitter