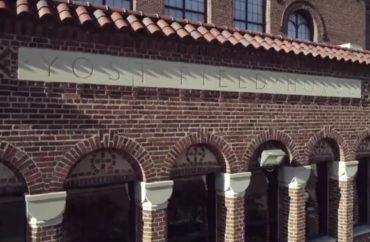 Some scholars surprised by recommendation: 'They put Fielding Yost on trial and convicted him, and they didn't even want to hear from any witnesses'
A committee of professors at the University of Michigan has recommended that the university strip the name of a former football coach from the university's ice hockey arena.
Fielding Yost, the namesake of Yost Ice Arena, coached the Michigan Wolverines football team to multiple national championships during the first half of the twentieth century, but he had an adverse effect on the well-being of black athletes when he was active, the professors claimed.
"In naming the Field House after Yost, the University chose to place one man's contributions to football and to athletics above the profoundly deep and negative impact he had on people of color," wrote the President's Advisory Committee on University History.
Community members have an opportunity to give their opinion on whether or not the university should keep the name of the coach, the Washington Examiner reported.
While this committee's decision was unanimous, it did not include enough diversity of thought, some scholars argued.
"They produced a report about Fielding Yost and Willis Ward, and they excluded the people who knew those two the best," Hillsdale College adjunct faculty member Buddy Moorehouse wrote in an email to The College Fix.
"The entire review was conducted in secrecy. They put Fielding Yost on trial and convicted him, and they didn't even want to hear from any witnesses. The University of Michigan should not be proud of how this has unfolded so far," he said.
Although the committee "got most of the basic facts right," the report left out relevant information about Yost's life, including his feelings toward race, Moorehouse said.
"There's a story about the Michigan track team going to a meet in Chicago, and the hotel said that the Black athletes would not be allowed to stay there," Moorehouse told The Fix.
"Yost raised hell and told them that if they didn't allow the entire team to stay at the hotel, he would see to it that no Big Ten team ever stayed there again. The hotel backed down and let the Black players stay there."
The committee also did not solicit the perspective of Willis Ward's family members in making their recommendation, according to Moorehouse.
Ward was a record-setting and award-winning African-American football and track student-athlete who played for Michigan in the 1930s and was inducted into the UMich Athletic Hall of Honor in 1981.
The professors also did not include in their report such perspectives as those of Dr. Tyran Steward, an authority on Ward's life, and John Bacon, a Michigan football historian, according to Moorehouse, who had collaborated with Steward and Bacon on the documentary "Black and Blue: Willis Ward, Gerald Ford, and the Ubiquitous Color Line."
From 1901 to 1941, when Yost served as coach and later athletic director, only one black player — Ward — earned a varsity letter for football.
"Yost upheld the so-called 'gentleman's agreement' to keep football for 'whites only,'" and he gave in to "racist southern demands," according to the committee.
During the 1934 season, Yost scheduled a home game against Georgia Tech, which refused to play the game if a black man, Ward, competed.
Yost responded by benching Ward, a move that angered many of his teammates, including future President Gerald Ford.
Bacon, a friend of Moorehouse's, did not know that the committee existed, even though the professors cited his work in the report, he said.
"I had no idea my work would be cited, because I had no idea about this report … [For what it's worth], no one involved in the report has ever contacted me about it, or asked my opinion about renaming Yost Ice Arena" he tweeted.
I had no idea my work would be cited, because I had no idea about this report. I stand by everything I have written since I co-authored A Legacy of Champions in 1996 – the good, the bad, and the rest. But this process clearly could have been handled much better. (3/4)

— John U. Bacon (@Johnubacon) May 24, 2021
Bacon did not respond to repeated requests for comment.
"I don't think there's anything you could tell this committee that would have led them to reach a different conclusion," Moorehouse told The Fix. "But Yost's life was a lot more complicated than that, so we need to have a broader discussion now."
Yost is the second celebrated Michigan football coach to have his legacy embroiled in controversy this month.
Bo Schembechler did not stop the sexual abuse of players at the hands of team doctor Robert Anderson despite being alerted to it, according to a May 11 report from a consulting firm that the university hired to investigate the matter.
MORE: Florida State University refuses to cancel namesake of football stadium
IMAGE: YouTube screenshot
Like The College Fix on Facebook / Follow us on Twitter