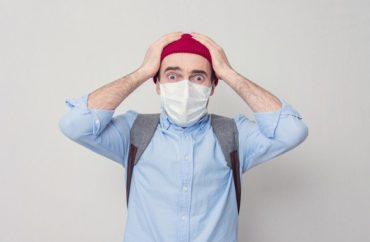 ANALYSIS: Some believe student parties were not as big of a problem as local leaders made them out to be
The Health Department of Washtenaw County, which governs the University of Michigan, recently put Michigan undergraduates under a "stay-in-place" order for two weeks. Once the order had expired, cases had slightly fallen in students, but they rose in older, more vulnerable populations, data show.
The October 20 order said "all U-M undergraduate students enrolled in U-M Fall 2020 on the Ann Arbor Campus, living in on-campus, near-campus or off-campus housing will be required to 'stay in place' and remain in their current designated residence." The order ended November 3.
The results toward the end of the lockdown showed, however, that "cases among 18- to 29-year-olds in the county have decreased slightly, while there has been a steady rise in the infection rate in the 30- to 49-year-old age group," wrote University of Michigan President Mark Schlissel in an October 30 email to students.
As Schlissel's email noted, cases had decreased slightly among undergrads, but older populations in the county saw their cases rise despite the fact that students were sheltering in place.
Even the lockdown order had stated that "COVID-19 cases among 18-24 year-old persons, thus far in Washtenaw County, have not resulted in increased hospitalization or death rates. Additionally, thus far, the increased incidence in 18- to 24-year-old persons has not been linked to increased incidence in other populations in Washtenaw County."
Combined with a county's determination that the students weren't spreading it to everybody else, some on campus believe student parties were not as big of a problem as local leaders made them out to be and that the stay-in-place order was too extreme of a response.
There was a feeling around campus that people were unfairly blaming the students, according to some informal student conversations.
Nevertheless, students had only been allowed to leave their domiciles for food, work, school, and outdoor physical activity in groups of no more than two. Exceptions were also made for athletes involved in varsity sports.
The week before the Health Department issued the order, "dozens of women" gathered in the center of campus for the Women's March on October 17, according to a local Michigan publication.
The order looked to be aimed toward large gatherings, such as parties, as it came just days before the Big Ten Conference was set to begin its football season. Michigan was set to square off against in-state rival Michigan State on Halloween.
"The focus on undergraduate students is based on data, increases in cases and the capacity of case investigators/tracers to keep up (public health capacity)," Susan Ringler-Cerniglia told The College Fix in an email. Ringler-Cerniglia is the communications and health promotion administrator for the Health Department of Washtenaw County.
"The majority of cases locally have been among those 18-20 years and associated with U-M," she said.
The university responded by moving most classes online.
"Even though the risk of classroom transmission remains low – and the increasing COVID-19 transmission we are seeing is not due to our classrooms and labs – we are issuing new guidelines for undergraduate course delivery to go into effect tomorrow and continue for the remainder of the semester," Schlissel wrote in an email to students.
U-M also put in place procedures for students who wished to return to a primary residence outside of Washtenaw County, which the order did allow.
"Violations," said Ringler-Cerniglia, "can be a misdemeanor or result in fines under the Michigan Public Health Code."
The day after the order was put in place, county commissioners voted that possible fines could be between $500 and $1000, as mlive reported.
According to Ringler-Cerniglia, no students had been punished under the order as of October 27.
"Personal rights are often limited," she said, "when potentially harmful to the others or the community as a whole. Nobody wants to be in this situation, and the goal is to maintain as many normal activities as possible without increasing illness and harm."
For the first week of the order, it looked like students were not heeding the order, and enforcement was lax, especially since no students had been punished by WCHD, and groups of students could be seen roaming around campus.
On October 29, however, Vice President for Student Life Martino Harmon penned an email to undergraduates. He announced the university would institute "escalated institutional behavior response measures to be applied as appropriate to circumstances."
In the early days of the order, the university had pursued less extreme punishments for first-time offenders, but Harmon wrote that punishments would be escalated.
Students who hosted gatherings in residence halls could have faced "immediate parent/family notification" and "housing contract terminations."
Undergraduates who hosted illicit social gatherings off-campus were subject to immediate suspension.
"Student organizations hosting high-risk social gatherings will also be held accountable and may lose university recognition for first-time violations," Harmon wrote.
The order also includes a list of "determinations," which led to its creation.
The Health Department reported that "there have been more than 1,000 confirmed COVID-19 cases among students at the U-M Ann Arbor campus since the start of the fall semester."
However, the order also admits COVID-19 cases among young people have not resulted in increased hospitalization or death rates nor linked to increased incidence in other populations in Washtenaw County.
According to Michigan Medicine, there were 17 patients hospitalized with COVID-19 at the University of Michigan Hospital. As of October 31, there were 35.
The university's Campus Blueprint reported that there were 401 cases the week before the Health Department issued the order. After the order had been issued, that number fell to 297.
Although cases had been rising, the university's positivity rate remained relatively stable: between 1 percent and 2 percent each week since fall classes started, only peaking at 2.6 percent the week before the order. U-M had been administering about 4,500 tests per week, but it was able to increase its capacity to 6,500 per week before the same week cases and positivity rate peaked.
Finally, on October 20, U-M had filled over 50 percent of its quarantine and isolation housing, but that number dropped to 23.7 percent by October 31.
The order gives a total of multiple conditions that would warrant its extension beyond November 3: five consecutive days of increased U-M cases, three large case clusters over a 14-day period, a cluster with more than 100 contacts, a number of cases greater than 70 per million, a sustained positivity rate of 10 percent, or a 10 percent increase in cases over a three-day period.
Additionally, an inability to perform contact tracing and quarantine/isolation housing reaching capacity could have also resulted in an extension.
On November 2, the Health Department announced it would be lifting the order the next day, as it had originally scheduled.
The order did not affect students at Eastern Michigan University, which is also in Washtenaw County.
MORE: Judge tells NYU it can't punish students for violating after-the-fact COVID rules
IMAGE: Anastasiya 99 / Shutterstock
Like The College Fix on Facebook / Follow us on Twitter