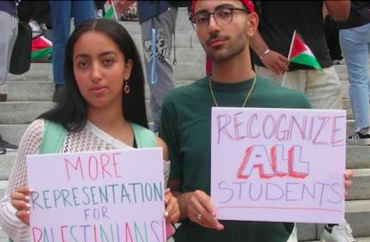 'At this point, there's no tiring us out'
The University of North Carolina's Arab Student Organization recently held a sit-in on the steps of a campus library to demand the Palestinian flag be raised at the Kenan-Flagler Business School.
The Daily Tar Heel article, originally titled "There's no tiring us out:" Arab Student Organization hosts sit-in" but later changed to 'A matter of equal treatment': ASO hosts sit-in to demand business school action," notes attendees "waved small Palestinian flags" and "carried signs, one of which read 'Recognize All Students.'"
On its Instagram page, the ASO posted a four-year-old Facebook screencap from Kenan-Flagler noting it changes the flags at the school each year to "reflect and celebrate the rich heritage every student brings from their home country."
The ASO claims Palestinian students "currently" and "have previously" attended the business school, but it "refuses to hang the Palestinian flag."
ASO President Malak Dridi said "At this point, it's just a matter of equal treatment." He added it's "a fact" Palestinian students are enrolled at UNC with some having graduated from Kenan-Flagler.
The ASO has been lobbying for the Palestinian flag for the last two years. Dridi and ASO Vice President Salma Hakam said they resorted to the sit-in because they had "exhausted all other channels of advocacy."
MORE: Professor threatens to call police on The College Fix for asking about Palestine course
"We demand the flag be hung up immediately," the ASO states on its Instagram. "We will not wait for a policy to be written. We will not be delayed any longer. Equal treatment of Palestinians must be enacted immediately."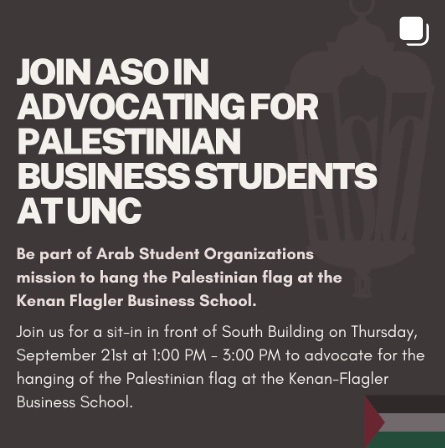 The ASO also demands the Palestinian flag be hung among the "other flags of national origin" (not the business school's "affiliation" flags such as the LGBTQ+ pride flag) and a "statement of apology" for the delay in raising the flag.
"There's no tiring us out," Dridi said. "We're not gonna stop until this flag is hung up."
An ASO member who requested anonymity said "they" thought UNC would be "welcoming and representing of [their] culture and background" … but now they're "frustrated."
Kenan-Flagler Dean Mary Margaret Frank told Dridi and Hakam in a letter sent last week that the school currently enrolls no student "who identif[ies] as being from Palestine," and that the Kenan-Flagler flags represent "the home countries of only […] current students, not alumni."
Frank added that even if there were Palestinians enrolled their flag would not be included as Palestine "is not recognized by the U.S. as an independent state."
Right now The College Fix has a back-to-school campaign to help us continue to support our amazing student journalists. A donation today will be matched thanks to a generous limited-time matching gift opportunity from a friend of The Fix! CLICK HERE for more details — and thank you!
MORE: 'Don't take sh*tty Zionist classes,' UChicago Students for Justice in Palestine says
IMAGES: The Daily Tar Heel/Facebook; UNC ASO/Instagram
Like The College Fix on Facebook / Follow us on Twitter