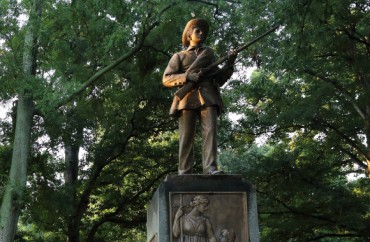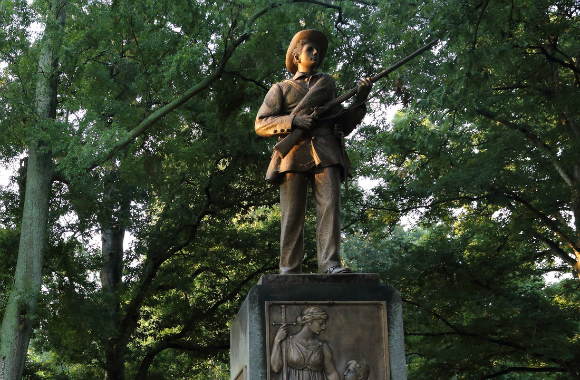 Confederate group calls it 'a major strategic victory'
When you want to get out of a marriage badly enough, you offer a hefty payout in return for your ex never bothering you again.
The University of North Carolina System is paying $2.5 million to get rid of its monument to alumni who were Confederate soldiers as part of a legal settlement approved by the Board of Governors last week.
The North Carolina Division of Sons of Confederate Veterans, which sued the board for suddenly removing all traces of "Silent Sam" months after protesters toppled it last year, will take possession of the monument and "all rights, title and interests" in it.
"SCV will forever maintain possession of the monument outside any of the fourteen counties currently containing a UNC System constituent institution," according to the system's announcement.
UNC will fund an independent charitable trust responsible for paying "certain limited expenses related to the care and preservation of the monument, including potentially a facility to house and display the monument," using $2.5 million in "non-state funds."
Board member Jim Holmes said the "safety and security concerns expressed by students, faculty, and staff" about the monument's very presence were "genuine," and the settlement puts the university "in full compliance with North Carolina law."
A critical defense attorney posted a leaked memo from the leader of the North Carolina SCV. The group told its members that the settlement would fund not only the "perpetual care" of Silent Sam, but also "the purchase of land on which to prominently display him, to build a small museum for the public, and to build a comprehensive Division headquarters for the benefit of the membership":
What we have accomplished is something that I never dreamed we could accomplish in a thousand years and all at the expense of the University itself. This is a major strategic victory, and I look forward to continuing to move the Division forward.
The memo identifies the author as Kevin Stone, commander of the division, but the lawyer who posted the memo calls Stone the "Grand Wizard."
h/t Inside Higher Ed
MORE: UNC has wiped away every last scrap of Silent Sam from campus
IMAGE: Don McCullough / Flickr
Like The College Fix on Facebook / Follow us on Twitter