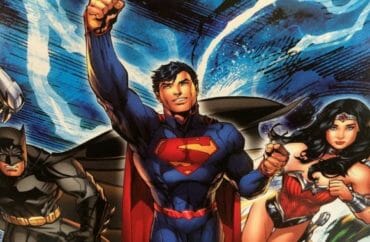 A University of North Carolina Pembroke professor has taken his interest in comics to the 'net, including a weekly interview show called "Comic Culture."
Terance Dollard's show, filmed at the college's Department of Mass Communication TV studios, features interviews with comic book writers, artists, and publishers regarding their interests and influences, and how their final products are put together.
"When I was growing up, comics weren't cool," Dollard said. "If you read comics, you kept it to yourself. Today, comics are mainstream. They are hit films and TV shows, inspired by the work of men and women who produced stories on paper every month with little fanfare.

"On Comic Culture, I get to hear how they crafted complex stories in this commercial context. I get to speak with legends and rising stars, writers and artists, editors and scholars. It's a fun way to learn comics from multiple points of view."
The show was picked up late last year by a local PBS affiliate. It was broadcast on a couple of local cable access channels before that.
Broadcasting majors who work in the studio get academic credit … not to mention great resume-building material:
"A student directs the dozen episodes each semester, and other students serve in all the crew positions. They're supervised [by a professor] as part of her broadcast practicum course, which is a hands-on requirement for broadcasting majors to apply skills from their classes to real television productions."
One of the Dollard's favorite interviews was with Walt Simonson, without whom, he says, "there would be no Thor film franchise."
More recently Dollard spoke with a key creator in Iron Man's history, Bob Layton:
Up until 2008's Iron Man movie, 'ol Shellhead (Iron Man's nickname) was considered a "B" character in Marvel Comics. Layton, along with writer (and his great friend) David Michelinie (pronounced "mih-kel-LYE-nee"), made their mark on the character beginning in the late 1970s.
In fact, it was they who brought the title back from the abyss of almost-cancellation.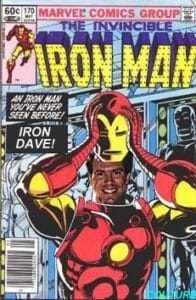 Remember when Tony Stark got drunk in Iron Man 2? Check out Iron Man #128, the classic  "Demon in a Bottle" story created by Layton and Michelinie.
Stark's best pal James Rhodes, portrayed first by Terrence Howard and then Don Cheadle? Created by Layton and Michelinie. Iron Man 2's swarmy businessman Justin Hammer? Created by Layton and Michelinie.
Layton's contributions to Iron Man lore are so vast that the movies' star, Robert Downey Jr., "actually pulled [him] up on stage with the entire cast of Iron Man 2 to take a bow" at that year's San Diego Comic Con.
Outside of Iron Man, you may know Layton pal David Michelinie by another very famous Marvel character — Venom. Venom was one of the featured villains in Spider-Man 3 (the alien all-black, and evil, Spider-Man costume) and is now slated for his own movie starring Tom Hardy.
And perhaps the best thing about Bob and David? They're genuinely great guys. As a writer and editor for the Iron Man fan magazine Advanced Iron, I got to work with both in the late 90s and early 2000s in getting never-before-seen character ideas, stories, and artwork out to hardcore Shellhead fans. One of my "fanboy" highlights is that I once  interviewed fellow Delawarean Michelinie over lunch.
You can view more Comic Culture videos here.
MORE: Stanford geologist: Superheroes' carbon footprints too big
MORE: Prof whines new 'Spider-Man' flick isn't sufficiently diverse
IMAGE: lettawren/Flickr
Like The College Fix on Facebook / Follow us on Twitter