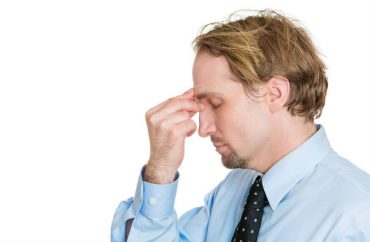 UPDATED
The University of North Carolina Wilmington Faculty Senate voted last week to censure Chancellor José Sartarelli for, among other things, not showing enough "empathy" for the cause of racial justice.
The December 8 vote was 51 in support of censure, and 20 against.
As reported by WECT, Faculty Senate President Nathaniel Grove, a chemistry professor, noted the reasons for the "yes" vote:
1. The Chancellor initially refused to support a global social movement supporting the liberty and human rights of Black people;

2. The Chancellor demonstrated a lack of leadership on the matter of Diversity and Inclusion prior to student and public demands to do so during the Summer 2020;

3. The Chancellor demonstrates a lack of empathy towards faculty, student and staff concerns about racial justice, and a lack of appreciation for the role of UNCW in strengthening democratic society.
Grove's statement also says Sartarelli has "egregiously failed" in supporting the university's values of "Diversity, Community Engagement, and Integrity," "violated" the faculty's trust and "dishonored" the school.
Sartarelli responded thusly:
Establishing a campus commitment to diversity, equity, and inclusion is a continual process. How we learn from and live with our history matters. I understand the urgency required and hope all of us (Chancellor, administration, faculty, staff, students, alumni and the community) can build a better Seahawk future together."

At their previous meeting, the Faculty Senate requested a Chancellor's report in March 2021 about the university's efforts to improve diversity, equity and inclusion. I am proud of the progress we have been making over the past five years, especially since June, and shared an advanced copy of such a report the first week of December.
That Chancellor's report is here.
A censure, WECT notes, isn't as severe as a "no confidence" vote — which the Faculty Senate considered last month — and shows "a willingness by the faculty to work with the administration to make positive changes."
Last Friday, the UNCW Board of Trustees approved a resolution supporting Sartarelli. A copy was provided to The College Fix and reads as follows: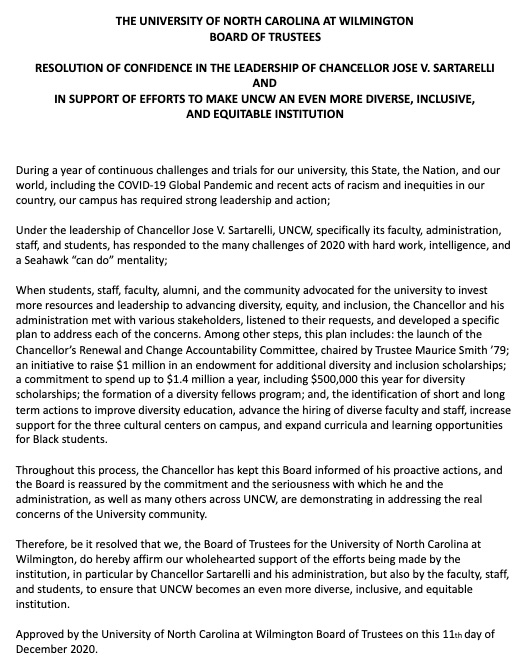 Sartarelli doesn't seem the type to sit there and take what his professors dish out. Four years ago when pro-Trump chalkings were found on campus and an English professor took it upon herself to erase them, the chancellor responded with a message stating "not agreeing with an opinion shouldn't be equated with feeling threatened by it."
UPDATE: UNCW Board of Trustees resolution in support of Chancellor Sartarelli was added to the article.
MORE: Cornell prof censured by dean after criticizing Black Lives Matter
MORE: Emory faces censure for punishing law prof who referenced n-word
IMAGE: pathdoc / Shutterstock.com
Like The College Fix on Facebook / Follow us on Twitter