Here we go again: March Madness is underway, which means it's time for the media to dissect it from a race/gender/sexuality perspective.
The University of North Carolina's Daily Tar Heel recently decided to highlight some of its female basketball players' grumblings about the disparities between the NCAA men's and women's basketball tournaments.
"It was just bad," said player Deja Kelly, referring to the "off-brand items that were low quality" they used to comped for being part of the NCAA tourney.
Things have improved, however. The catalyst for change was University of Oregon women's basketball player Sedona Prince who had recorded the "discrepancies" between men's and women's tournament workout facilities. Her video led to a 118-page(!) report on "gender equity problems" in the sport.
UNC women's b-ball coach Courtney Banghart said there needs to be a shift in the "financial model" of the tournament in order to "achieve full equity."
Wait a second. I thought the edu-speak definition of "equity" was that "each person has different circumstances and allocates the exact resources and opportunities needed to reach an equal outcome." You'll likely see other definitions, but all in all they're fairly similar. And they're usually accompanied by cute pictures like this: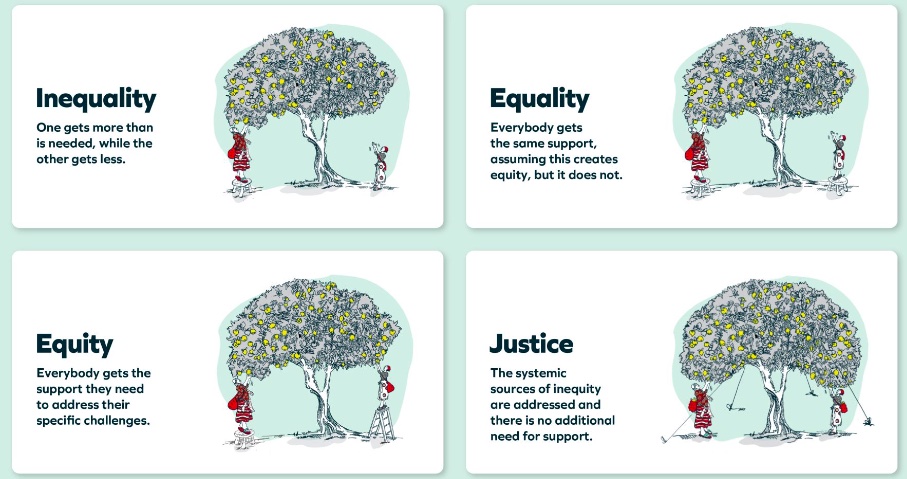 MORE: Professor: Brittney Griner a victim of 'low regard for women's sports'
The plain truth of the matter is that women's basketball — or any women's sport, for that matter — will never achieve equity with the men due to one basic fact: Men and women are different. And more people prefer to watch and support men's sports because that's where the best athletes participate — period.
I know this upsets gender and sexuality activists. Too bad. Ironically, the only way equity could ever be achieved in the sports realm would be to allow biological men to participate in women's sports — which is already happening. But even then it's unlikely as transgender females already have shown they weren't standout competitors as men.
Perhaps Coach Banghart just mixed up her definitions. This is certainly understandable as even hardcore DEI academics can't keep them straight — and the terms are constantly changing anyway.
Maybe Banghart meant equality, which makes sense in that, sure, the NCAA should provide equal resources (goodies, accommodations) for the men's and women's teams who make the tournament. (Just note, however, that this still wouldn't be fair as the men's tourney pulls in way more cash than the women's. Just like the NBA vs. the WNBA. Etc.)
Recall this piece from seven years ago: A (female) Yale student complained that the school's men's and women's hockey teams had drawn 3,500 and 444 spectators respectively. The reason? Cultural bias. Seriously.
The president of a Yale student group which supports the school's athletic teams said "the biggest challenge is the wide-scale societal bias towards male sports over female sports." A member of the women's fencing team said "It is, I hope, obvious that it's not a superior experience to watch men's over women's […] It's culturally passed on that we watch men's basketball, football, et cetera."
The one commenter to the article wrote in response "There are two clear choices: limit the number of spectators at men's games, or force students under penalty of expulsion to attend women's games." For the public at large this would translate into cable companies and streaming services showing only (or mostly) women's sports programming.
The latter will never happen, of course, due to a thing called reality. But the former? Don't count it out. If Ivy Leaguers can delude themselves about why men's sports are more popular (not to mention why biological men competing as women is no big deal), anything is possible.
MORE: Preferring to watch men's sports over women's is indicative of a 'societal, cultural bias'
IMAGES: Kunst Bilder/Shutterstock.com; John D Brownlie/Twitter screencap
Like The College Fix on Facebook / Follow us on Twitter