The Ivy League issued a statement in support of a transgender University of Pennsylvania swimmer late last week, condemning "transphobia" as the athlete headed off to compete in an Ivy tri-meet.
Lia Thomas, who is transitioning from male to female, has been crushing her opposition in the pool, including a victory by an astounding 38 seconds in the 1650 freestyle event. She's allegedly been overheard bragging about it being "so easy" and being the number one-ranked (female) swimmer in the country.
According to NCAA regulations, trans females can compete in sporting events after a year of testosterone suppression treatment.
Thomas' teammates aren't happy about the situation, with one saying "No matter how much work they put in it, they're going to lose."
In its January 6 message of support for Thomas, the Ivy League said it "reaffirms its unwavering commitment to providing an inclusive environment for all student-athletes while condemning transphobia and discrimination in any form." It added it "welcomes [Thomas'] participation in the sport of women's swimming and diving and looks forward to celebrating the success of all our student-athletes throughout the season."
The Ivy League releases the following statement of support regarding Penn's Lia Thomas' participation on the women's swimming and diving team. 🌿 pic.twitter.com/wdEDW4ud5O

— The Ivy League (@IvyLeague) January 6, 2022
MORE: Penn parents ask NCAA to address 'direct threat to female athletes' from transgender athletes
The University of Pennsylvania and Harvard also offered support for Thomas, with the former saying it is "committed to being a welcome and inclusive environment for all […] student athletes," and that Thomas "has met or exceeded all NCAA protocols" for transgender female athletes.
Statement regarding our women's swimmer, Lia Thomas. #FightOnPenn pic.twitter.com/lvrnBbfeEr

— Penn Quakers (@pennathletics) January 6, 2022
Harvard Athletics stands with Penn Athletics, and the Ivy League, in the support of all student-athletes and in rejecting hate and transphobia in our community. https://t.co/6Gw0PSHuTu

— Harvard Athletics (@harvardcrimson) January 6, 2022
Ironically at Saturday's Ivy League swim meet, Thomas was beaten twice — by another transgender athlete. Yale's Iszac Henig, who's transitioning from female to male, bested Thomas in the 100-yard freestyle and the 400-yard freestyle relay, the Daily Mail reports. Henig allegedly has delayed taking male hormones so she can remain on the (women's) team.
After winning the 50-yard freestyle, Henig (below) — who's removed her breasts — "pulled down the top of [her] swimsuit, shocking some parents at the meet."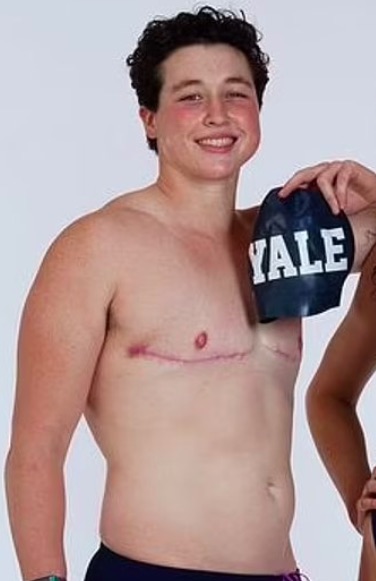 A U. Pennsylvania parent remarked "I wasn't prepared for that. Everything is messed up. I can't wrap my head around this. The NCAA needs to do something about this. They need to put science into the decision and discussion."
Veteran USA Swimming official Cynthia Millen recently resigned after more than 30 years in her position over the Thomas controversy. She said "The fact is that swimming is a sport in which bodies compete against bodies. Identities do not compete against identities.
"Men are different from women, men swimmers are different from women, and they will always be faster than women."
MORE: Catholic colleges must defend female sports at all costs, Franciscan Steubenville swim coach says
IMAGES: NY Post, Teddy Brosevelt / Twitter screencaps
Like The College Fix on Facebook / Follow us on Twitter