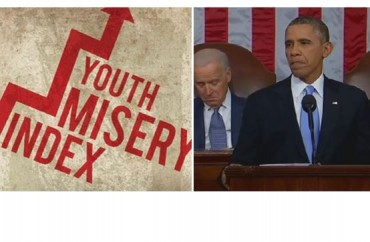 Young America's Foundation released its annual "Youth Misery Index" findings today, and the news is not good for young people – the index has hit an all-time record high.
The foundation calculates the index by adding youth unemployment, student loan debt, and national debt (per capita) figures, and it found "young people are experiencing hardships like never before under the Obama administration, and this generation is especially suffering the consequences of this administration's leftist policies."
For 2014, youth unemployment sat at 18.1 percent, student loan debt came in at $30,000, and national debt per capita was the highest ever at $58,437. The foundation tallied that all up for a Youth Misery Index of 106.5. That's far above the 2013 figure of 98.6, when the foundation added 16.3, which represented youth unemployment, with 29.4 – the average 4-year college loan debt – and 52.9, each person's national debt burden.
"The government is largely responsible for all three problems, and we've found a statistically significant relationship between government expenditures and the Youth Misery Index," the foundation states. "Each indicator can be tied to government actions."
While the index has steadily grown over the decades, under Obama the figure has shot up dramatically.
In 2012 it was 95.1, and the year before that 90.6. When Obama first took office in 2009, it was 83.5. When President George Bush left office in 2008 – the index was 69.3. When the figure debuted in 1993, it came in at 53.1.
"Young people will be stuck paying for government debt they had no part in creating, and they'll have to do it with less discretionary income than ever before because of record high levels of student loan debt," the foundation stated.
The group encourages students to "start the conversation on campus" about what that means for their future.
"To fix these problems, young people must become more active," the foundation states. "We cannot expect policy makers in Washington to fight these battles for us."
Like The College Fix on Facebook / Follow us on Twitter
IMAGE: YMI, courtesy Young America's Foundation/ Obama – YouTube screenshot