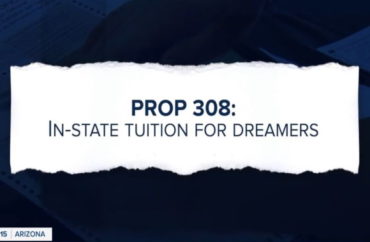 Arizona's Proposition 308 would legalize in-state tuition and financial aid eligibility to all college students who have graduated from a high school in the state, regardless of immigration status.
Eligible students must have attended the high school they graduated from for at least two years under the proposal before voters.
Prop 308, if approved, would allow undocumented immigrants to receive the same financial benefits at an Arizona state university or community college as U.S. citizens and lawful permanent residents.
The ballot measure, backed by Latino organizers and prominent businesses, would directly repeal Proposition 300, which passed in 2006 and held that non-citizens and those without legal residential status are ineligible for various state-subsidized benefits, including in-state tuition and financial aid.
"Prop 308 is simple and makes a lot of sense: It lets kids who have both gone to our schools for at least 2 years, and graduated here, be treated like all other Arizona kids when it comes to tuition at our colleges," said Tyler Montague, chairman of Yes on 308, in a statement.
However, opponents argue that U.S. citizens should receive priority.
"It really undercuts being a citizen, and that's the heart of my argument in opposition to this," said Michelle Ugenti-Rita, an Arizona state senator, in a recent interview. "It should matter that you're a citizen, it means something."
Arizona state Sen. Paul Boyer, a Republican, introduced Prop 308 to the legislature in 2021. The state's Senate and House of Representatives approved it for the ballot, and voters will decide on the issue this Election Day, November 8, 2022.
The target audience, known as the Dreamers, are those who arrive and grow up in the United States as children of migrants without legal entry or residential status. An estimated 3,000 to 4,000 of these students stand to benefit annually from this policy.
Opposition to Prop 308 mainly consists of voters and lawmakers at odds with the current border crisis, and consider immigration reform to be a critical issue in the upcoming midterms. Analysts have argued that for the measure to pass, Republican and independent voters would need to support it.
"While proponents want to focus on lowering the cost of tuition, the real genesis of the problem is a broken immigration system," Ugenti-Rita wrote in a recent column for AZCentral. "Arizona voters have already weighed in on this very issue. [Proposition 300] specifically prohibited nonlegal citizens from receiving in-state tuition. Arizona voters overwhelmingly approved the proposition by a vote of 71% in favor and 29% against."
But supporters of the policy make a moral and economic case for the repeal, describing the benefiting dreamers as a much-needed bolster to Arizona's workforce.
"I have known many 'dreamers' through my church, and in my Boy Scout troop, and through our neighborhood schools who are on par with the finest Arizona kids," Montague said. "They bear no culpability for any wrongdoing whatsoever, and it is morally wrong to impose punitive tuition rates like we currently do to them in Arizona."
Asked to weigh in on the debate, Paul Mueller, professor of economics at The King's College, in New York City, said there are economic implications.
"Economics teaches you to look at the incentives created, as well as the costs and benefits of public policy," Mueller said. "If immigration status doesn't matter, then I would expect that many immigrants in other states besides Arizona whose children would not qualify for in-state tuition or state financial aid in their current state, would consider moving to Arizona, even if only temporarily, to take advantage of getting in-state tuition and financial aid from Arizona."
"Attracting more immigrants, likely with questionable legal status, and increasing the number of students at their state universities will have a variety of effects on the state," Mueller said. "This ranges from potentially increasing the labor force, increasing demand for housing, increasing the number of educated workers in the state."
Proposition 308 excludes nonresident aliens, who are families of foreign ambassadors and diplomats, as well as non-citizens with residencies in a foreign nation that they do not intend to abandon.
Arizona is one of three states that bars undocumented students from paying in-state tuition, while the District of Columbia and 20 other states allow undocumented students to pay in-state tuition prices at state colleges and universities, according to the National Immigration Law Center.
MORE: Arizona governor signs universal school choice into law
IMAGE: ABC Arizona screenshot
Like The College Fix on Facebook / Follow us on Twitter