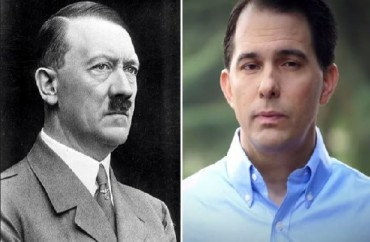 University of Wisconsin sociology Professor Sara Goldrick-Rab claims there are "terrifying" psychological similarities between Wisconsin Gov. Scott Walker and Nazi leader and mass murderer Adolf Hitler.
In a July 1 tweet, Goldrick-Rab said: "My grandfather, a psychologist, just walked me through similarities between Walker and Hitler. There are so many-it's terrifying."
The extreme comparisons didn't stop there.
A day later, Professor Goldrick-Rap tweeted: "No doubt about it-Walker and many Wisconsin Legislators are fascists. Period. They proved it today. #SHAME."
Walker, a Republican, announced on Monday that he is running for president.
The College Fix reached out to Professor Goldrick-Rab on Monday to seek clarification about her strongly worded tweets. Goldrick-Rab released the following statement to The College Fix:
Thank you for your question. Please note that I have taken time out of my unpaid vacation to respond, as a courtesy to the timeliness of your request.

If you reread the tweet, you will see that I stated that an expert in the field – a psychoanalyst with decades of experience – compared the 'psychological characteristics' of the two individuals, and that I was struck by his analysis. There do appear to be commonalities.

I'm confident you are capable of seeing the difference between such an assessment and equating the whole of two different people.

I'm also confident you will note that the tweet was not a "reaction" to any particular event, and thus it may not fit with your narrative.
Recently Goldrick-Rab also targeted the Wisconsin budget as an attack on education and tenure, tweeting she "spent more than 20 years working for & honoring the tenure I earned. Walker just robbed me of it. He robbed Wisconsin. It's unforgivable."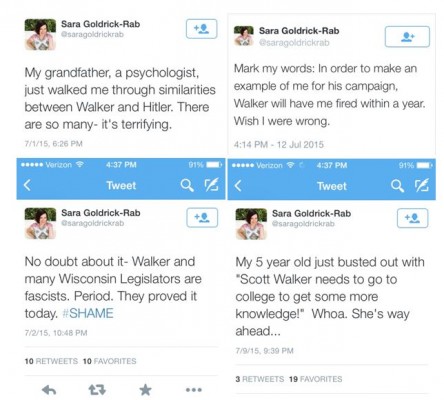 She went on to suggest Walker would "make an example" out of her and fire her to advance his campaign.
"You should hear my kids, trying to figure out what moving means. Walker is driving them out of their home state. He took mom's job." Goldrick-Rab tweeted July 12.
In a statement issued to the Wisconsin State Journal, Goldrick-Rab said that her colleagues around the UW system are talking privately about leaving, and that "(legislators) had literally shattered their employees and students and they stand up and say 'thank you.' It's cowardly. We're the laughingstock of the nation."
Professor Goldrick-Rab also joined the chorus of those lamenting the fact that Walker doesn't have a college degree, tweeting: "My 5 year old just busted out with 'Scott Walker needs to go to college to get some more knowledge!'  Whoa. She's way ahead…"
Like The College Fix on Facebook / Follow us on Twitter
IMAGES: YouTube and Twitter screenshots