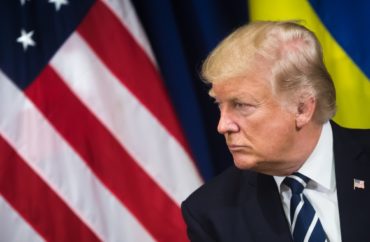 Presidential libraries are a matter of prestige, and often universities play host — and can even get in bidding wars over them, as was the case with President Barack Obama.
But when it comes to President Donald Trump's library, it doesn't seem like universities are clamoring for it. When The College Fix asked his alma maters about the subject, they declined comment.
As for Trump, he's confident he'll have a presidential library, somewhere.
"I have a lot of locations actually. The nice part, I don't have to worry about buying a location," Trump said in a June 2019 Meet the Press interview.
Trump said he may use one of his own properties as the location for his library.
WATCH: When asked if he has thought about his presidential library, President Trump tells Chuck Todd that he has a "lot of options." #MTP #IfItsSunday

Trump: "The nice part, I don't have to worry about buying a location." pic.twitter.com/gefc5Vcjcf

— Meet the Press (@MeetThePress) June 24, 2019
Typically presidential libraries end up in a place that marked a significant time in that president's life. Chicago, for instance, where Obama worked before his election to the Oval Office, is where his presidential library is planned. It will be near the University of Chicago, which beat out the University of Illinois at Chicago, Columbia University and the University of Hawaii, which also sought to host it.
Similarly, the Reagan Presidential Library is located near Santa Barbara, California, where President Ronald Reagan served as governor, and spent much of his time during his presidency as well as his final years.
Often presidential libraries are affiliated with universities based in states of significance to the former presidents.
"The Lyndon B. Johnson presidential library was built on the campus of the University of Texas at Austin … The Gerald R. Ford presidential library is located at the University of Michigan in Ann Arbor. The George H.W. Bush presidential library was built at Texas A&M University in College Station … The William J. Clinton presidential library, in Little Rock, Ark., is affiliated with the Clinton School of Public Service in the University of Arkansas system. The George W. Bush presidential library, the newest, opened in 2013 at Southern Methodist University in Dallas," reports The Washington Post.
But if Trump wants his presidential library at a university, it might be an issue.
Fordham University, where the president attended for the first two years of his undergraduate degree, had a notable run-in when it was barred from releasing Trump's education records before he ran for office. The College Fix reached out to Fordham multiple times for comment on whether they've considered hosting his library and has not heard back.
Wharton Business School might be more proud that a sitting president is a graduate, however the school has remained ambiguous in its opinion of the president. University of Pennsylvania students have protested Trump in the past. Again, silence from the press office when The College Fix asked whether they'd host a Trump presidential library.
One school that is enthusiastic about the president, however, is Liberty University. This is the only university where the president has delivered a commencement address aside from military schools. Yet their press office replied with a curt "no" when asked by The College Fix whether they've had this conversation yet.
Perhaps this is because the student body remains divided in their support of the president, even while Liberty President Jerry Falwell Jr. remains a staunch supporter.
Alternatively, the Trump Presidential library may end up in sites other than former schools. If all else fails, the president has already alluded to using one of his own properties.
MORE: Trump snubbed? Prominent universities shun president as grad speaker, again
IMAGE: Spark of Light / Shutterstock
Like The College Fix on Facebook / Follow us on Twitter