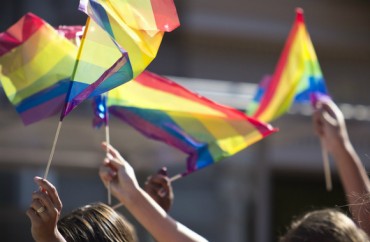 Notable universities across the nation have extended healthcare benefits to same-sex couples in the wake of the Supreme Court's Obergefell v. Hodges ruling, which legalized gay marriage in all 50 states.
While many private and some public universities already offered domestic partnership and same-sex benefits, most of those quickly reacting to the court's decision were public universities located in the 13 states that previously banned gay marriage, as well as Christian colleges.
Some universities in states such as Georgia, Kansas, Tennessee, Louisiana, Michigan and Texas announced their policy changes in the days or weeks following the verdict.
Take the University of Georgia, located in a state that previously banned same-sex marriage. The system's website states its new benefits will not only impact health insurance, but also life, dental, vision and other benefits. Couples can even apply retroactively to June 26, the date of the ruling, officials stated.
"The Supreme Court has ruled and the Board of Regents will ensure the University System and its 30 institutions will comply fully with the ruling," Charlie Sutlive, the system's vice chancellor of communications, told the Athens Banner Herald.
Starting July 1, same-sex couples at the University of Texas also gained benefits, and at Kansas State, the benefits will begin Aug. 1.
At the University of Tennessee, Chancellor Jimmy Cheek told employees via email that UT will offer insurance benefits to married same-sex couples following the Supreme Court decision, describing it as "historic." Since UT's benefits are administered through the state, and Tennessee previously prohibited same-sex marriage, UT had been unable to extend them despite calls from faculty for a decade.
Meanwhile, several Christian colleges have also joined the fold. Among them is Hope College, located in Holland, Mich., which told employees that "spouses are eligible for benefits, so long as their marriage is legally recognized by the State of Michigan."
President John Knapp continued, "we recognized early on that the Supreme Court was likely to issue a decision that would present new challenges for our college."
Knapp clarified that the school chapel will not host same-sex wedding ceremonies, however, and noted Hope College continues to believe that "biblical witness calls us to a life of chastity among the unmarried and the sanctity of marriage between a man and a woman."
Meanwhile, many universities – even some Christian ones – had already voluntarily extended same-sex benefits prior to the Supreme Court's ruling.
Belmont University, affiliated with the Tennessee Baptist Convention until 2009, has offered same-sex benefits to married couples since January 2011. The university still identifies as a "Christian community," despite not being a member of the Council of Christian College and Universities.
The University of Notre Dame, a Catholic University in Indiana, extended benefits to same-sex couples after the Indiana Supreme Court legalized same-sex marriage statewide in October 2014. The Catholic school emailed employees stating, "Notre Dame is a Catholic University and endorses a Catholic view of marriage. However, it will follow the relevant civil law and begin to implement this change immediately."
Similarly, Boston College, a Jesuit school in Massachusetts, has offered same-sex benefits to its employees since the state legalized gay marriage on May 17, 2004.
Some evangelical colleges and universities will most likely resist the change, however, and could face legal challenges in the years ahead.
"Private institutions that dissent from today's reformulation of marriage must be prepared for aggressive legal attacks on all fronts," noted Michael McConnell, director of Stanford University's Constitutional Law Center.
Like The College Fix on Facebook / Follow us on Twitter
IMAGE: thisisbossi/Flickr