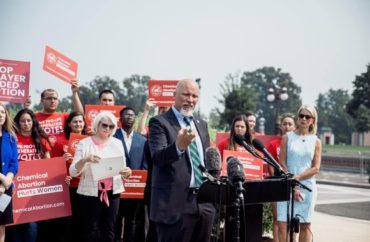 Students for Life Action has teamed up with senators and representatives to advocate for legislation
Chemical abortion drugs represent one of the latest developments in the battle between abortion supporters and pro-life activists.
A handful of pro-life federal legislators want to stop universities from helping students acquire the RU-486 drugs which are used in first trimester pregnancies to induce what Students for Life of America calls "toilet bowl abortions."
Women must often wait hours in the bathroom as they wait for the preborn baby to die from the induced abortion. SFLA created a documentary about the dangers of chemical abortions with other pro-life groups and Charlotte Bond, the daughter of former Vice President Mike Pence.
The Protecting Life on Campus legislation is currently in committee in both the U.S. House and Senate as of August 25.
The legislation would "prohibit the award of Federal funds to an institution of higher education that hosts or is affiliated with a student-based service site that provides abortion drugs or abortions to students of the institution or to employees of the institution or site."
Chief sponsors include Congressman Chip Roy (above) of Texas and Senator Steve Daines of Montana.
It has been introduced with the support of Students for Life Action, the political advocacy arm of Students for Life of America.
"Our schools should be equipping students with the skills they need to build careers, lives and a great future for our country and the world," SFL Action spokesperson Kristi Hamrick told The College Fix via email. "Any school that prioritizes ending the lives of future students deserves to have their doors closed."
She said the pro-life group did not have an estimate on the number of campuses currently providing RU-486 abortion drugs, but noted that California has required its public universities to provide the abortifacients. Other states, such as New York, have considered similar legislation.
Pro-life activists mobilized to support legislation
SFL Action has been asking supporters and activists to tell Congress to pass the legislation. One of its online contact pages shows over 600 emails have been sent to Congress.
"A college dorm is no place to have a do-it-yourself abortion, and the American taxpayer should not be paying for the destruction of innocent human life on our college campuses," Congressman Roy said in a news release.
"But, as we already know, what the abortion industry really cares about are profits – not the welfare of mothers of mothers or the integrity of higher learning," the Texas Republican said. "The Protecting Life on College Campuses Act is about guarding young college women and their unborn children from the predatory abortion industry's radical and reckless push for universal access to abortion"
Universities are often not equipped to dispense RU-486.
Pregnant women cannot generally take the RU-486 drugs after the first trimester. Medical clinics must be able to determine how far along a woman is in her pregnancy and confirm she is not experiencing an ectopic pregnancy.
But this is beyond the capability of most university medical clinics.
"If students require emergency medical assistance during or after the abortion, including surgical intervention, student health centers are not prepared to provide such care," Students for Life Action said in its petition.
MORE: Pro-life student group wants to oust Fauci
IMAGE: Students for Life Action/Facebook
Like The College Fix on Facebook / Follow us on Twitter