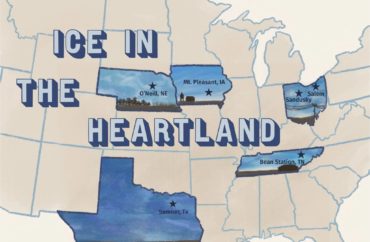 The exhibit featured spoken word and visual art by undergraduates, inspired by research on raids targeting illegal immigrants that have led to arrests in several U.S. states.
An art exhibition that features spoken and visual artwork inspired by university research on domestic illegal immigration raids conducted by U.S. Immigration and Customs Enforcement opened Saturday at the University of Michigan Student Union.
"The exhibition on Saturday aimed to showcase the lasting effects of immigration raids, in which ICE agents target workplaces that employ undocumented workers," the Michigan Daily stated about the show "ICE in the Heartland."
"Through their artwork, artists aimed to illustrate the chaos and separation of families caused by the raids," the paper said.
The art exhibition is linked to a qualitative research project of the same name. The "ICE in the Heartland: Community Impacts of Worksite Immigration Raids" project is a collaboration of researchers and students at the University of Michigan School of Public Health and University of Iowa College of Public Health who research, publish and educate on rural U.S. areas affected by major worksite immigration raids in 2018.
The "About the Project" section of its website states, "We are community health researchers who research, write about, and advocate against immigration enforcement, especially immigration raids."
The artists from the exhibition produced the showcased work with research from The Adelante Lab, a team in the University of Michigan School of Public Health that conducts qualitative research on ICE raids and maintains a media archive.
University of Michigan senior Carolina Jones offered a series of illustrations, one showing a teacher working with students with Spanish and English posters in the background; another showing a family sitting around a kitchen table with a mother holding a letter from ICE.
Another University of Michigan student offered a spoken piece "on the categorization and stereotype of 'the strong Black woman.'" A third presented her psychology honors thesis, which examines "faith responders," members of religious groups who oppose illegal immigration raids.
A collection of visual art from the exhibition will be on view in the Michigan League Student Union first-floor lobby through May 2.
The project was funded in part by The University of Michigan Institute for Research on Women and Gender, the Documenting Criminalization and Confinement Research Initiative of the University of Michigan Carceral State Project, and the University of Iowa Prevention Research Center for Rural Health.
MORE: Hispanic student senator faces impeachment for old tweets critical of illegal immigration
IMAGE: ICE in the Heartland
Like The College Fix on Facebook / Follow us on Twitter