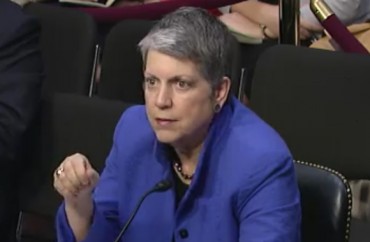 University of California President Janet Napolitano on Wednesday announced an earmark of $25.2 million from the system's taxpayer-funded coffers to help support a variety of programs that assist undocumented UC students.
Napolitano, who served as Secretary of Homeland Security from 2009 to 2013 and was charged with protecting the nation's borders and immigration rule of law, now is propping up students in the country illegally, saying in announcing the allotment that "we are committed to continuing a path forward for undocumented students at the University of California. This funding will further strengthen the university's undocumented student initiative, and help ensure that these students receive the support and resources they need to succeed."
System leaders have pledged $8.4 million a year for the next three school years — a total of $25.2 million through 2019 — for undocumented student support across its 10 campuses, a decision that is a "done deal," Claire Doan, a spokeswoman for the University of California Office of the President, confirmed Wednesday in an email to The College Fix.
Part of that aid will be used to fund the system's DREAM loan program, which makes student loans available to students in the country illegally who are not eligible for federal aid. Students will repay their loans back into the DREAM loan fund, system officials state.
The money will also pay for student services staff coordinators, "targeted undergraduate and graduate fellowships," textbooks, and undocumented legal services, the system announced.
Some campuses have undocumented student services centers – complete with paid staff coordinators – to help students in the country illegally obtain access to tax-payer funded financial aid and other benefits. They are already eligible for state financial aid for college.
The $25.2 million pledge comes after state coffers last May essentially saved the system from undergoing massive cuts in a budget compromise.
This school year, Napolitano was under pressure to do more for students in the country illegally. Student demonstrators protested outside her office "to express their frustration about what they called a failure to address issues that affect undocumented students." Napolitano, also known as "Big Sis" for her tenure as Secretary of Homeland Security, has also received flak from Latino student activists over that role, saying they found her former post offensive.
RELATED: California universities roll out the red carpet for illegal immigrants
Like The College Fix on Facebook / Follow us on Twitter