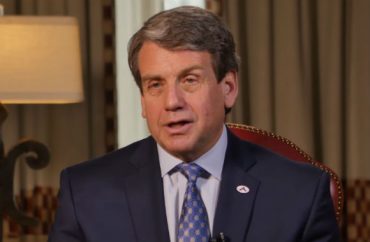 'Tighten up the reins' 
Founded by a Justice Department prosecutor who took on the porn industry 30 years ago, the Alliance Defending Freedom just named a veteran of the education culture wars as its next leader.
Michael Farris, the founder of Patrick Henry College, recently became only the second CEO, president and general counsel in the religious-liberty group's 24-year history. Alan Sears remains as founder.
Known for its lawsuits on behalf of conservative Christians, the alliance has also jumped into more general lawsuits against campus infringements on free speech in the past few years.
In spite or even because of Donald Trump's presidential victory, Farris thinks students of a particular viewpoint will find themselves more under siege than they were in the Obama administration.
MORE: Public university accused of violating Catholic students' religious freedom
"The universities have control and I think it will get worse," he told The College Fix last week, when asked if censorship and discrimination in higher ed would decrease under President Trump.
"I think [universities] will react negatively to what is going on in Washington and tighten up the reins."
'It will have a generational impact' if we don't fight back
Farris founded the Home School Legal Defense Association in 1983 and helped draft the Religious Freedom Restoration Act, whose name he took credit for and which was signed by President Bill Clinton in 1994.
In 2000 he founded Patrick Henry College, which describes itself as a "classical Christian" institution. According to the college's website, Farris saw a need for a school that represented a strong stand for God and biblical teaching while also providing academic rigor that produced successful students.
Farris told The Fix he plans to keep the alliance going in the same direction that it did under Sears, the former Reagan administration prosecutor, while growing the organization and expanding on its mission.
The group's mission is to ensure people's right to freely live out their faith in word and deed. It focuses on religious freedom, sanctity of life and sanctity of marriage and family.
The alliance has a heavy focus on education, with "over 200 legal victories on behalf of students and faculty," according to its website.
Just last week the group sued Colorado State University on behalf of a campus pro-life group because administrators refused to approve its funding request to bring a speaker to campus. The college said the pro-life activist was not "unbiased."
Threaten federal funding to protect speech
Today colleges often violate students' freedom of expression, particularly those who identify as conservative and Christian, according to Farris.
"We want to be as aggressive as possible in defending the constitution of the United States," Farris said in a phone interview. "If freedom of speech is lost, the impact is unbelievably bad for a long, long time. It will have a generational impact."
MORE: Public college has student jailed for distributing Constitutions
He encourages students to check out the alliance's resources on campus speech codes: "Students need to be vigilant about checking out their speech policies on campus, and if something is amiss or wrong, fight it."
Although Farris thinks the campus climate against conservative and religious speech might worsen, there's a "possibility" that the new leaders at Trump's Department of Education "can intervene" and tie federal funding of colleges to their respect for students' expression, "in order to stand up for the Constitution."
Because they can't count on their campuses to become more tolerant to their views, Farris said, conservative students should "educate themselves on the issues" and "train themselves to present their ideas in a reasonable fashion."
"Academic freedom is the ability to learn and teach without restraint, even when doing so is unpopular," ADF's website states. "Whether you're a professor or a student on a university campus, you have the constitutional right to express your faith in academia."
MORE: You can't regulate speech, lawmaker warns public university
MORE: Colorado State won't fund pro-life student event, not 'unbiased'
Like The College Fix on Facebook / Follow us on Twitter
IMAGE: Alliance Defending Freedom/YouTube