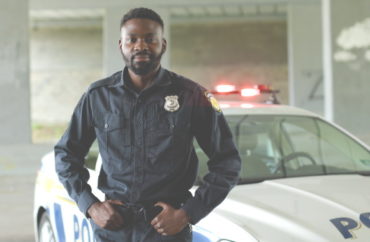 Ohio Northern University officials have denied the College Republicans' request to print T-shirts with the phrase "Back the Blue" and an image of the thin blue line flag.
The GOP students were planning to sell the clothing to support local police, but university officials said the messaging is too controversial, Campus Reform reports.
In mid-September the university announced that campus clubs would need to get apparel designs approved prior to printing, so College Republicans President Madeline Markwood ran her group's blueprint up the chain of command.
That's when the trouble began. First, university diversity officials wanted a meeting to discuss things further. Then they denied it.
Although the planned T-shirts did not include the Ohio Northern University lettering or logo, officials cited the controversial nature of pro-police expression at other campuses in their decision to reject the design.
"Due to the sensitivity around this request, we took this to the DEI board and [Office of Multicultural Development]. They then discussed as a group and would recommend not moving forward with this project," according to a Sept. 17 email to Markwood. "The support for not sanctioning this is massive."
Instead, the College Republicans were offered a discussion with the Office of Multicultural Development to talk about "what might be perceived as problematic about this message" at a venue that allowed multiple perspectives to be aired.
Markwood told Campus Reform that "Our nation has already made it difficult for us (conservatives) to live, without us ever realizing it. I just didn't expect a small D3 school in the middle of Ohio to find it a priority of theirs to silence us."
Weighing in on this incident, George Washington University law Professor Jonathan Turley notes that Back the Blue "is obviously an expression loaded with political and social meaning in support for police officers. The denial of such expression is content-based censorship."
"Ohio Northern University is a private institution, not a state school. It is not the government shutting down the speech in the classic heckler's veto but the effect is the same with officials barring expression by citing the opposition of others," Turley wrote on his blog.
"Imagine if the school barred 'Black Lives Matter' displays or other such causes. It is discriminating on the basis of the content of the messages on the basis that some are too 'controversial.' It invites bias and selective regulation."
MORE: Library apologizes for using 'thin blue line' image to promote Northwestern police reform event
IMAGE: Fractal Pictures / Shutterstock
Like The College Fix on Facebook / Follow us on Twitter