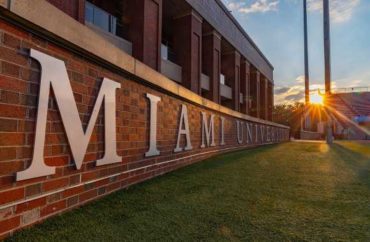 The Office of Institutional Diversity and Inclusion developed the new mini-course
Miami University, a public institution in Ohio, is conducting the first session of its "Diversity, Equity, and Inclusion" online course, scheduled to conclude May 30.
The course is described as a "micro-credential," which are "short, focused credentials designed to provide in-demand skills, know-how and experience," according to the State University of New York.
The course began March 14 and is free to all students, faculty and alumni. Miami University's Office of Institutional Diversity and Inclusion developed it, according to an April 12 article in The Miami Student.
The university summarized the goal of the DEI program on its website, stating that it seeks to teach students to "effectively lead diverse teams," to "strive towards equity" and to "put inclusion into practice."
"We developed this microcredential in response to the increased demand and urgency to develop DEI skills to ensure more inclusive work environments and leadership practices in our society today," stated Cristina Alcalde, vice president of diversity and inclusion, in an email to The College Fix.
Topics covered include microaggressions, 'anti-racism,' and LGBTQ+ identities
The 11-week course comprises ten 45-minute modules covering topics such as "bias, stereotypes, and microaggressions; race and anti-racism; LGBTQ+ identities; ableism and inclusion; healthcare inequities and inclusion; and allyship and advocacy," according to Miami University's website.
Rodney Coates, a sociologist at the university and author of "The Matrix of Race: Social Construction, Intersectionality, and Inequality," created a module dedicated to the study of race relations. The Fix reached out to Coates to ask about his goals for the module, but he declined to comment.
Alcalde also stated in the article from The Miami Student that "we repeatedly hear how research tells us that well-managed, diverse workplaces are more competitive, innovative and successful than non-diverse ones."
The university's president, Gregory Crawford, also expressed support of the program.
"We strive to create an inclusive environment for the entire campus community," he stated. "This course reflects our core commitment to inclusive excellence and building a more inclusive society."
Miami University has a "Center for Student Diversity and Inclusion," which is responsible for "programs, activities, and procedures designed for academic success, retention, and personal development of diverse student populations."
Miami University is not the only school to offer "diversity" training. Colleges such as Georgetown, Rutgers and Cornell all offer similar DEI courses.
The Fix reached out to Miami University's Office of Institutional Diversity and Inclusion to request a copy of the syllabus for the course and ask whether it can be taken for credit or as a graduation requirement, but the office has not responded with the requested information.
MORE: Minority students did not feel more 'welcome' despite millions invested in DEI
IMAGE: Miami University/Twitter
Like The College Fix on Facebook / Follow us on Twitter