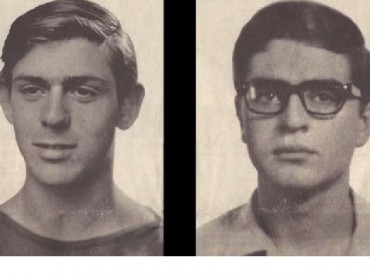 A member for the defense team of Rasmea Odeh — a convicted terrorist in Israel who more recently was found guilty of federal immigration fraud in the United States — will be speaking at Loyola University Chicago – an appearance funded by student fees.
A petition opposing the event, and calling for official objection to it by the student government and Loyola administration, currently has almost 200 signatures. A memorial to the victims of the supermarket bombing Odeh was involved in in Israel in the 1960s is also scheduled to take place at the same time as the speaking event.
"The event on Loyola's campus, funded by the Student Activities Fund, will bring Nesreen Hasan, a member of Odeh's defense team to speak about Rasmea's defense and the perceived unfairness of her conviction," the petition states. "The event ignores the fact that Rasmea Odeh is a convicted terrorist responsible for the murder of two people."
Titled "A Woman's Intifada: The Story of Rasmea Odeh," it will be held on Loyola's campus on Thursday, Feb. 26. It's being hosted by the Middle Eastern Student Association and will feature Nesreen Hasan, a member of Odeh's defense team. The talk comes at a time when pro-Palestinian groups are
clamoring for Odeh's conviction to be reversed, calling her an innocent women's rights advocate who was allegedly raped by Israeli soldiers in the 1970s.
DePaul University, another Catholic university in Chicago, hosted a similar event for Odeh earlier this month.
Odeh was involved in two bombings in 1969 in Israel. One bombing killed two young men in a supermarket and the other damaged the British consulate in Jerusalem. She was convicted in 1970 for terrorism charges in an Israeli court and was released from prison in 1980 in a prisoner-exchange program.
Odeh entered the United States in 1995. She failed to disclose her 1970 conviction on her immigration papers, denying that she had ever been "charged, convicted, or imprisoned for a crime." She became a naturalized citizen in 2004.
In 2013, she was indicted on charges of immigration fraud and was convicted in 2014. Her sentencing is expected to take place in a few weeks.
The event set for Loyola was funded by a $6,000 grant from Loyola's Student Activity Fund, The College Fix has learned. The SAF is funded completely from student fees collected by the university and is distributed by a committee of the student government.
The event is open to the public, although people not associated with the university will be charged a $1 admission fee.
There is an extensive event description on Facebook, which reads in part:
Rasmea was arrested by the Israeli government for a crime that she did not commit. Rasmea was arrested during a mass arrest of hundreds of Palestinians. She was forced to confess to this allegation after enduring 25 days of rape and torture at an Israeli interrogation center. Rasmea was put on trial in an Israeli military court, in which the conviction rate for Palestinians is over 99%. Despite her lifetime prison sentence, she was released after ten years in a prisoner exchange. Rasmea eventually moved to the US and became an active citizen and member of the community. Many years later, Rasmea was put on trial once again in a Detroit federal court.
Beyond the theme of "FBI targeting of Arab Americans," the event will focus on Odeh's claims of torture and rape while detained in Israel.
One of the posts by Loyola's Middle Eastern Student Association claims that this event is a feminist issue as well as a Palestinian issue: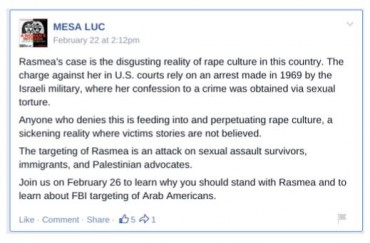 MESA would not respond to repeated inquiries by The College Fix.
This is not the first brush with controversy for Loyola. In the spring of 2014, the student government twice passed an anti-Israel divestment measure, one of which was vetoed and the other failed to garner the veto overriding two-thirds majority vote.
Last semester, in September, Loyola's Students for Justice in Palestine chapter protested an Israeli tabling display, which lead to the chapter's temporary suspension.
College Fix reporter Dominic Lynch is a student at Loyola University Chicago.
Like The College Fix on Facebook / Follow us on Twitter
IMAGES: social media screenshots