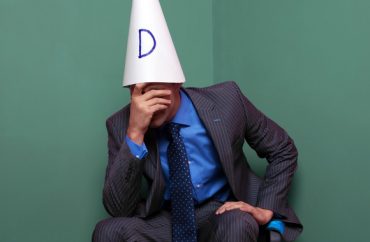 'Stipulation of dismissal' on the way
Denison University can see the writing on the wall, and there's no reason to be a loser when you can just be a quitter.
The private Ohio university decided to quit rather than lose an appeal before the 6th U.S. Circuit Court of Appeals regarding its expulsion of a student accused of rape via incapacitation.
A trial court had dismissed a lawsuit by "John Doe" against Denison that claimed the university created "a gender biased, hostile environment against males" by disciplining them when they "accept physical contact initiated by female students."
But one of the three appellate judges hearing the case, Amul Thapar, thoroughly lit into Denison's attorney during oral argument six months ago. The totality of the judges' remarks suggested the panel would rule against the university 2-1 and reinstate the Title IX lawsuit against Denison, bringing the 6th Circuit in line with the 2nd Circuit on the matter of anti-male bias in Title IX proceedings.
Denison't isn't waiting to find out. A May 4 document to the parties' lawyers from a 6th Circuit mediator says that "as discussed," the parties can now file a stipulation to dismiss, which is due by June 1.
KC Johnson, Brooklyn College professor and chronicler of Title IX litigation, pointed to Thapar's recorded comments during oral argument as the likely factor in Denison's cave-in.
Preempting a likely defeat before the 6th Circuit, notice of looming settlement in @DenisonU due process lawsuit: pic.twitter.com/6oIApn9Mlz

— KC Johnson (@kcjohnson9) May 9, 2018
For likely reason why Denison settled–& a reminder, as in Cincy case, of Judge Thapar's contribution to campus due process debate–see these oral argument clips:https://t.co/sgLNInKiQ4

— KC Johnson (@kcjohnson9) May 9, 2018
MORE: Appeals judge rips Denison for '1000 girls' remark in Title IX hearing
It's worth returning to that oral argument to see what college administrators can get away with, even with trial judges:
Denison lawyer Natalie McLaughlin suggested the university can discriminate against accused males to avoid getting sued by females.
She waved off an alleged statement by the chair of the Title IX panel that her colleagues must consider the "future of 1000 girls" before rendering judgment – a clear presumption of guilt. (Thapar asked McLaughlin what she'd say if a "Black Lives Matter defendant" were accused of assaulting a white male.)
When McLaughlin realized she was cornered, she argued from authority: Only the chair appeared to be biased against John Doe, and such panels are "entitled to a presumption of impartiality."
She then said bias doesn't matter at the trial level if the decision is upheld on appeal by unbiased campus parties.
After this disastrous appearance before the 6th Circuit, the only remaining question is why Denison didn't try to settle months earlier.
Legal observers are sad they won't get to see a stunning smackdown of Denison's position from Judge Thapar.
Slate legal writer Mark Joseph Stern has previously criticized fellow progressives for junking due process in sexual misconduct cases, including the Obama administration's now-rescinded Title IX guidance. Such preference for mob rule also targets poor people of color, he has written.
Agreed. One thing that was clear from the oral arg. is that he knew the case very well & had thought through the due process Qs more comprehensively than most judges who have tried to tackle this issue.

— KC Johnson (@kcjohnson9) May 9, 2018
MORE: 2nd Circuit reinstates anti-male bias case against Columbia
IMAGE: RTimages/Shutterstock
Like The College Fix on Facebook / Follow us on Twitter