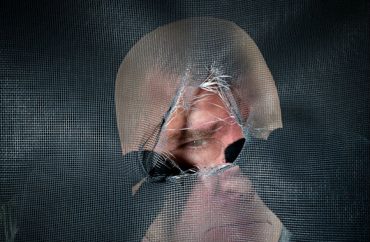 Art exhibits that use Ku Klux Klan imagery to criticize bigotry are now the equivalent of old-school porno houses.
Salem State University brought back the anti-Donald Trump exhibit by local artist Garry D. Harley that it shuttered last week, following student complaints that it should not have displayed Klan imagery at all.
There's one change: The exhibit is now behind black drapes so no one will accidentally see it, and there's a posted "explanation" of its intent, Inside Higher Ed reports:
The university also took other steps. It posted a statement outside the gallery noting the concerns some have raised about the exhibit. The gallery added a "public reflection board" so people could share their thoughts. And the gallery posted expanded statements by the various artists. Only the Klan image … however, was placed behind drapes.
MORE: Salem State shuts down art that offends social justice warriors
Students & controversial art: #SalemState reopens exhibit, MICA involves students in displaying piece on the KKK https://t.co/YWnrPFmKjH pic.twitter.com/AtMIVPGg1Y

— Inside Higher Ed (@insidehighered) December 1, 2016
Artist Harley tried in vain to explain to students that art history is full of artists depicting things they were horrified by, like "Guernica," but "students rejected Harley's explanations."
He says he has "never seen art placed behind curtains" before Salem State – only barriers in front of "particularly fragile works" or those that could be vandalized.
MORE: U. of Iowa claims it didn't censor anti-racist statue after student freakout
President Patricia Maguire Meservey told the campus that the compromise was about "creating dialogue," and that it "offers gains" to those concerned about freedom of expression.
This isn't the first anti-bigotry art to depict the Klan and draw a massive student freakout.
An artist-in-residence at the University of Iowa was forced to take down his statue after students thought it meant the Klan was invading campus. The school defended the removal as protecting "inclusiveness."
Other misunderstood progressive art caused uproars at SUNY-Buffalo and Brandeis.
MORE: Anti-racist art installation at college deemed racist
Like The College Fix on Facebook / Follow us on Twitter
IMAGE: Joe Belanger/Shutterstock