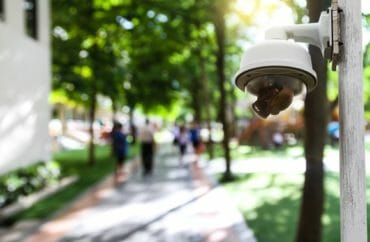 Westfield State University will soon install 400 security cameras after a spree of alleged hate and bias incidents has prompted unrest and protests at the Massachusetts campus.
The board of trustees held a special meeting last week to approve the measure.
The university has published a log that itemizes the incidents that have prompted the unrest. There have been about two dozen incidents logged since September.
The vast majority of the incidents are racists notes slipped under students' doors or left in mailboxes, as well as racist vandalism and racial slurs "overheard" by others. Some anti-Semitic graffiti has also been reported.
The most serious incident took place in early November and is listed as "a student reported a physical assault with racist language directed at her."
In that case, "three males reportedly approached the woman from behind and the shoulder of one of the males 'checked or bumped her,' knocking her backpack to the ground," reported MassLive. "A second male then reportedly kicked the backpack and a third male 'made a threatening racist comment to her.'"
That and the others incidents led to a walk-out protest in mid-November, it added.
"The purpose of this initiative [cameras] is to provide our community and the department of public safety with another tool to address, and possibly prevent, the continuation of hateful and destructive acts that have disrupted our living and learning environment," according to an email to students from President Ramon Torrecilha announcing the decision obtained by Western Mass News.
The most recent incident occurred over the weekend — a bomb threat.
"A bomb threat message found in Scanlon Hall prompted the evacuation of that residence hall at 2:30 a.m. The Massachusetts State Police, City of Westfield Police, and Westfield State University Police responded to the incident and completed a search of the building with bomb-sniffing canines," the university reported, adding the building was given the all-clear by authorities.
According to Torrecihla, the 400 cameras could be installed as early as Dec. 4 and will be mounted throughout the campus with a focus on the residence halls, reported MassLive.
MORE: CAUGHT ON VIDEO: Hate-crime vandalism against conservative student
IMAGE: Shutterstock
Like The College Fix on Facebook / Follow us on Twitter