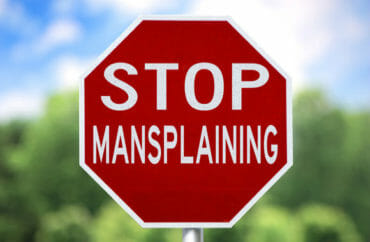 Image of a man talking while women listen is not actually connected to school
A billboard advertisement outside of an Australian university has generated controversy for allegedly showing an instance of "mansplaining," with individuals criticizing the school even though the advertisement itself is not connected to the university.
The image, which "depicts a man sitting down at a table seemingly explaining a topic to a group of five women," received widespread mockery and scorn, The Independent reports. The photograph was taken as an example of "mansplaining," which is a phenomenon in which "a man unnecessarily explains something to a woman (or women) in a condescending and patronising manner," according to The Independent.
The image, which was placed next to a large logo of the University of Adelaide outside of the school's hospital, caused many people to criticize the university itself.
A friend shared this and it's a real Adelaide University poster and I will be over here laugh-crying until I die.
PS: Just look at these poor women's faces… 😂😂 pic.twitter.com/n1LrdQjDKj

— Toula Drimonis (@ToulasTake) June 29, 2018
The poster, however, was part of an ad campaign from an unrelated "urban development company," according to the university; the mansplaining photograph was not commissioned by the university itself.
"The photo in question on the Renewal SA hoarding is not a university image. It was not supplied by us. It was not approved by us. The people depicted in that photo are not university people," a university spokesperson said.
Still, commenters on the Internet heaped abuse on the school for the apparent male-centric advertisement.
"[O]ur innovative education precinct is now offering a Master of Mansplaining," one user said on Instagram.
Another Twitter user "did a fast google of other University of Adelaide photos used in promotion ads" and discovered that "the authoritative white male presence is repeated over and over, even in a yoga class."
MORE: Feminists freak out over 'mansplaining' statue
IMAGE: Bird-Lee / Shutterstock.com
Like The College Fix on Facebook / Follow us on Twitter