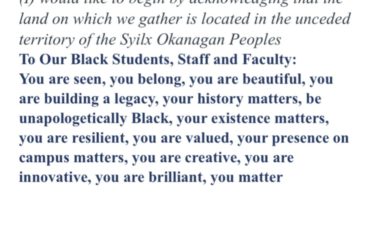 Professor copies statement into his email signature
The University of British Columbia has promoted statements directed at black students that are meant to affirm their value.
"You are seen, you belong, you are beautiful, you are building a legacy," one example reads.
While the university said it is not "mandatory," the language used by at least one employee comes directly from a university report on racism.
Damien Bell, a University of British Columbia graduate academic service officer, wrote an acknowledgement to black students specifically in his email signature. Quillette editor Jonathan Kay shared a copy of Bell's email.
The College Fix reached out to Bell and asked when he started including the acknowledgement in his emails and if he knew if anyone else the university included it as well. He did not respond to the June 1 email, but instead Matthew Ramsey, a university spokesman, responded on Bell's behalf. Ramsey separately had answered an earlier inquiry sent to the university.
The acknowledgement begins with an Indigenous land acknowledgement, where Bell wrote he "would like to begin by acknowledging that the land on which we gather is located in the unceded territory of the Syilx Okanagan Peoples."
Then, the acknowledgement reads:
To our Black Students, Staff, and faculty:…You are seen, you belong, you are beautiful, you are building a legacy, your history matters, be unapologetically Black, your existence matters, you are resilient, you are valued, your presence on campus matters, you are creative, you are innovative, you are brilliant, you matter
Ramsey, the university spokesman, told The Fix via email that this is not a mandatory practice for all faculty staff members, and that "​​UBC Faculty, staff and students are free to include acknowledgments of their choosing in their email signatures."
MORE: University will offer 'Anti-Black racism' minor
But the phrases used by Bell comes directly from a 2022 university report on racism which included the statement that "UBC is not immune to racism and injustice, and we need to make it crystal clear that racism and bias have no place in our community and that we have zero tolerance for it."
The exact quotes used by Bell are listed on page 65 of the report on a section called "Our enduring message to Black Students, Staff, Faculty and Executive leadership at BC."
"Apparently, UBC has had a problem with black people being *apologetically* black," Kay commented.
"This is basically a florid and performative version of the language parents use to console children who've just lost a hockey game or flunked a test," Kay wrote on Twitter.
Bell has been honored for his work on "diversity, equity and inclusion" efforts.
The university awarded him its "Advancing Anti-Racism and Inclusive Excellence Award."
"As the Advancing Anti-Racism and Inclusive Excellence Award recipient, Damien was recognized for taking a leadership role in advancing equity, diversity and inclusive (EDI) excellence practices within CoGS as well as in the broader UBC community," the university wrote in a news release. "He is committed to continuous learning in the equity, diversity and inclusion space and puts the knowledge he gains into practice for the betterment of CoGS, students, staff, faculty and the community."
University of Concordia Professor Gad Saad noted in an email to The Fix that he discusses this type of behavior in modern universities in his book "The Parasitic Mind."
MORE: Cornell officially adopts 'land acknowledgement'
IMAGE: Jon Kay/Twitter
Like The College Fix on Facebook / Follow us on Twitter