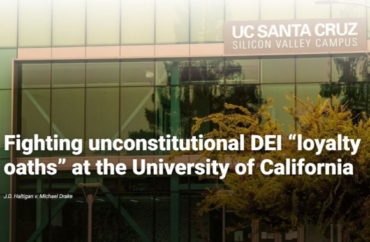 A policy that requires scholars seeking a job at UC Santa Cruz to provide a diversity, equity and inclusion statement as part of the application process is unconstitutional, argues a recently filed lawsuit against the University of California system and UCSC leaders.
The Pacific Legal Foundation filed the lawsuit on behalf of J.D. Haltigan, a former University of Toronto psychology professor, who argues the university's DEI statement requirement runs afoul of the First Amendment because it requires Haltigan "to express ideas with which he disagrees in order to be eligible for employment."
The lawsuit states UC Santa Cruz applicants "must express agreement with specific socio-political ideas, including the view that treating individuals differently based on their race or sex is desirable."
But Haltigan's support of colorblind inclusivity, viewpoint diversity and merit-based evaluations stands against UC Santa Cruz's publicly stated progressive stances and policies, it alleges.
"Because the DEI Statement Requirement requires Dr. Haltigan to affirm particular beliefs that are inherently separate from the qualifications for the position or the purpose of the University as a whole, it imposes a condition on employment that would be unconstitutional if done outright," the lawsuit states.
This case "could not only put an end to the use of DEI statements to screen applicants in the UC system," it could also "create good precedent for future challenges to these sort of policies," Jack Brown, Haltigan's attorney, told The College Fix via email.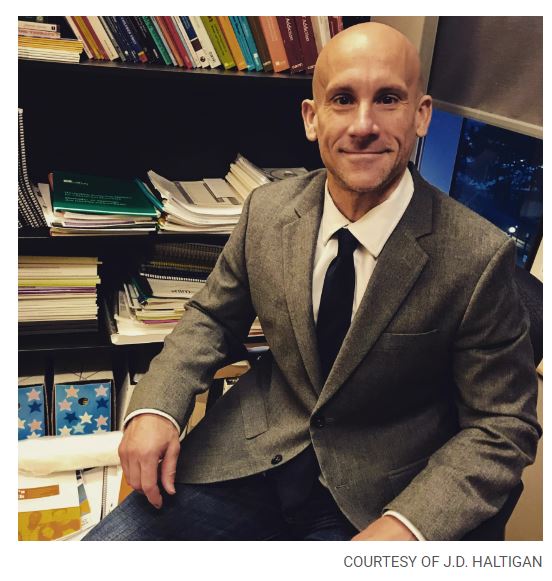 It is unlikely that the university will settle, considering its officials are adamantly pushing the concept of "diversity," Brown added. "Our main concern is that JD have the opportunity to apply based on the merits of his application," he said.
Scott Hernandez, a spokesperson for UC Santa Cruz, told The College Fix that because the school has yet to be served with the lawsuit, "we are reserving comment."
The litigation comes amid a rising concern over mandatory DEI statements. Earlier this month, for example, Florida approved a new law that bans DEI statements in hiring. Tennessee approved a similar measure in April.
Reached for comment on the topic, San Diego State University English Professor Peter Herman, a public critic of the use of DEI statements in higher education hiring, told The College Fix that "DEI statements contribute to an intellectual monoculture in which only certain ideas, certain beliefs, are acceptable. So getting rid of them is a great idea."
At UC Santa Cruz, a "Contributions to Diversity Statement Guidelines" document spells out on its website that the school is "committed to serving a student body and hiring faculty and staff who reflect the diversity of the State of California; responding to the needs of a diverse society; as well as maintaining principles of equity and inclusion."
The psychology department at UC Santa Cruz includes dozens of DEI resources on its website instructing on how to apply antiracism through research, teaching and service.
According to the complaint, the University of California system established an "Advancing Faculty Diversity program, which supports projects to increase racial and gender balance on UC campuses." The diversity statements, found on the UC website, are specifically defined to ensure that "successful applicants adhere to a particular ideology and worldview," the lawsuit argued.
Additionally, UC Santa Cruz adopted initial screening recruitment forms to ensure candidates abide by the diversity criteria, the lawsuit contends.
A Pacific Legal Foundation news release states the DEI requirement "has nothing to do with an applicant's qualifications and everything to do with their beliefs outside the job opportunity. Yet, candidates who don't comply won't even get through the initial screening process."
Legal scholars disagree on whether mandatory DEI statements pass muster with the Constitution. Supporters argue they are akin to teaching and research statements. But critics contend they enforce viewpoint discrimination, violate academic freedom, and create a political litmus test.
Brown, Haltigan's attorney, told The College Fix that there are several steps universities can take to promote viewpoint diversity.
They should begin by "eliminating political litmus tests like DEI requirements," he said. In addition, universities should host events "that bring together right- and left-leaning scholars" to discuss these topics, he said.
Haltigan, who lives in Pennsylvania, is currently not employed, but he "is qualified for the open position at UC Santa Cruz and has applied to that university in the past," the lawsuit states.
As the lawsuit winds its way through the courts, Haltigan posted a general DEI statement on his Substack.
"I believe that the use of diversity, equity, and inclusion (DEI) statements in evaluating candidates for positions in higher education and academia are anathema to the ideals and principles of rigorous scholarship, and the sound practice of science and teaching—all of which public universities were created to uphold," he wrote.
"DEI statements have become a political litmus test for political orientation and activism that has created an untenable situation in higher academia where diversity of thought—the bedrock of liberal education—is neither promoted nor tolerated."
Pacific Legal Foundation, a nonprofit legal organization focused on defending American liberties, represents the scholar pro bono.
MORE: Law professors disagree on whether mandatory DEI faculty statements are constitutional
Like The College Fix on Facebook / Follow us on Twitter