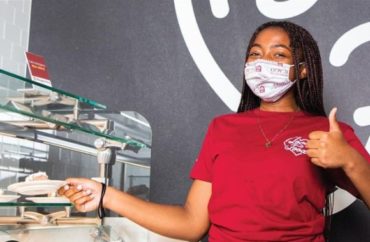 Multiple school officials misinterpreted city policy
University of Chicago officials reversed course after they were found incorrectly telling students who are unvaccinated that they could not eat inside the school's dining halls.
The conservative campus publication The Chicago Thinker reported that officials at the elite school on the city's South Side told students who have not received their COVID shots that all meals would have to be to-go.
But the city's vaccine passport system for indoor dining does not apply to students who have tested negative for coronavirus in the past 72 hours and have obtained a religious and medical exemption from the shots.
All enrolled University of Chicago students must have received booster shots or an exemption in order to be on campus.
Several residence life officials told The Thinker that unvaccinated students were barred from eating in the dining halls. A spokesperson confirmed to The Thinker that no policy exists and apologized for any misunderstanding.
The communications office did not respond to other questions from the publication about if a campus-wide apology would be issued, what administrators made the decision and why an inaccurate policy was communicated to students.
The currently available policies say that unvaccinated individuals can eat inside but must sit six feet from others, including their vaccinated peers.
The university started the semester without in-person classes, leading the editorial board of The Chicago Thinker to demand a refund for every week of remote learning.
"We demand that the University of Chicago recommit to stellar, in-person instruction," the conservative students said. "Until it does so, we demand that the university implement a significant tuition reduction, specifically the portion of tuition devoted to classes and access to school facilities, for every week of in-person classes and campus amenities limited or denied."
MORE: Fordham bans students from drinking water in buildings
IMAGE: UChicago Dining/Instagram
Like The College Fix on Facebook / Follow us on Twitter