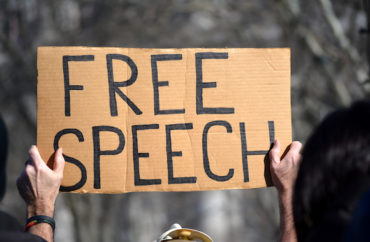 Under new policies, students in Colorado can now respectfully debate and disagree with their professors and classmates and expect to be treated with respect in return. And that's great news for conservative students there who have sounded the alarm that their classroom comments have been silenced and mocked in the past.
The University of Colorado Board of Regents on Friday unanimously approved the new policies aimed at defending free speech and academic freedom on campuses.
"The revisions recognize for the first time that faculty and students have academic freedom and also balances their respective rights and responsibilities," officials announced Friday in the wake of the vote. "…New provisions recognize that, while faculty members have the ability to direct the course of classroom discussions, students have the ability to raise questions and take reasoned exception to the views and data presented by others."
The push for the new policies has been underway for some time, led by Republican regents. It was done as part of a larger review of board policies.
The Republican regents were spurred on in part by concerns voiced by conservative students that their opinions were not respected and protected in the classroom.
The new policies are in line with state law that requires "that free speech can occur in public spaces on campuses, prohibits universities from confining expression to 'free speech zones' and allows universities to enact viewpoint neutral rules to guard against disruptions to the learning environment," according to officials' statement.
The Daily Camera reports that "the changes for the first time codified academic freedom for students, as well as definitions of freedom of expression for university community members."
CU Boulder launched a website to help answer questions about the new policies.
MORE: In Colorado, conservatives fight back against classroom bias
Like The College Fix on Facebook / Follow us on Twitter