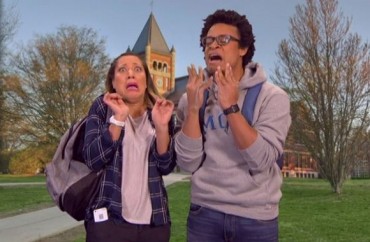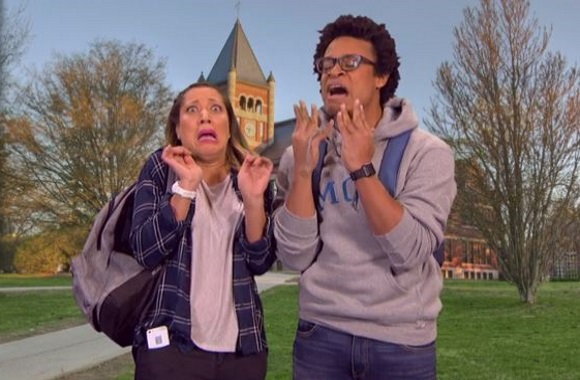 This past week, one of those wacky far-right "Christian" groups that scream and yell at people about their "sins" decided to set up shop near a major student thoroughfare at the University of Delaware.
Neatly planted just off UD property near the campus Green, members of the Key of David Christian Center held provocative placards denouncing "homos, whores, porno freaks, masturbators, Muslims, [and] drunks," and yelled "offensive" statements at passersby.
(In answer to why the group yells epithets, The Key of David website states "Names are good. If someone killed your mother, would you be naming them a murderer? Is a virgin called a virgin? Is a F student called a F student? Labels, titles and names are important. It's how you identify something." Deep, eh?)
UD spokeswoman Andrea Boyle Tippett said about the group, "They are trying to get a reaction, and unfortunately, they get one every time."
Indeed. But instead of just laughing at these idiots and continuing on their way, several UD students mixed it up with Key of David members, and four of the former ended up arrested. One undergrad took a sign from a Key of David member, while another blocked traffic on nearby Delaware Avenue (a big no-no as it's one of the major roads through campus).
Others allegedly threw an egg and tried to punch some Key of David members.
MORE: 'We demand not to be coddled.' University of Chicago student publication supports free speech
UD President Dennis Assanis had it right, saying that while Key of David's antics were "hate speech" and "disturbing," it's "also important to remember that the university values freedom of speech, even for those people and ideas that we may find deeply offensive or hateful."
But the "feminist" UD activist group Students Acting for Gender Equity, acting in accordance with modern progressivism in that anything contrary to their belief system is "hate" and therefore somehow illegal, blasted the university and local enforcement.
"We are deeply concerned by the lack of protection UDPD and Newark PD provided to students who were harassed. Even more distressing is the fact that police today arrested and brutalized counter protesters," it said.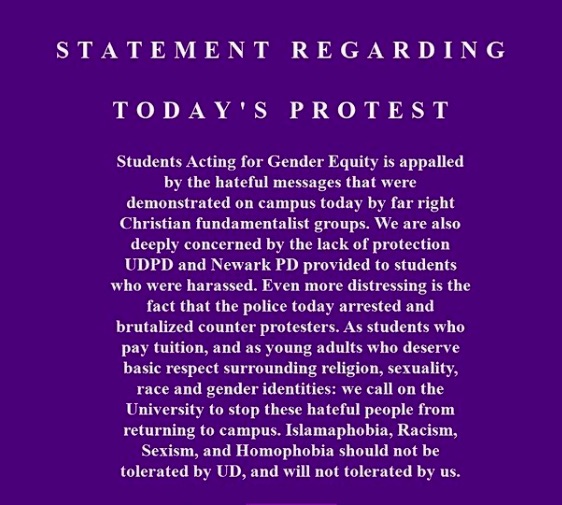 SAGE Outreach Director Sean Mulrooney ("they/them" pronouns) took issue with Tippett's advice of ignoring the reactionary religious zealots: "When we allow them to fester, then they feel emboldened because then they feel like they can do anything without being stopped."
They then offered up a threat: "I don't think people are going to take this any longer," Mulrooney said. "There are frustrations that are getting to a boiling point."
So exactly what will Mulrooney and their group do if Key of David comes backs to campus? Bring weapons? Assault the KoD and then use a "self-defense" claim that the religious zealots were mean to them?
Better yet, will Students Acting for Gender Equity try the National School Boards Association's route — that is, write a letter to President Biden asking him to declare Key of David a "domestic terrorist" group because it says nasty stuff and makes Mulrooney and crew really upset?
Come on, is it really that difficult to just walk right past the Key of David nitwits, laughing at them all the while? When I was at UD we had the Hare Krishnas all over the place. They always were nagging students to listen to them and chanting in everyone's faces. But there were no "counter-protests" or students running to the administration pleading with them to make students "feel safe."
You know what students did? Ignored the Krishnas, smiled and/or laughed at them, and kept going to class. Like normal people.
MORE: University bans 'degrading language' while promising 'greatest possible degree' of free speech
IMAGE: Instagram screencap
Like The College Fix on Facebook / Follow us on Twitter