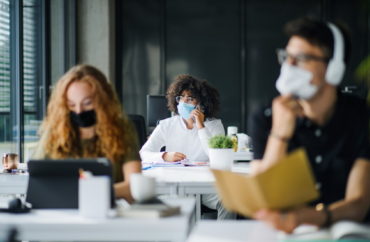 'Voluntary compliance is critical,' says flagship campus
The massive University of Georgia system recently announced that it will require everyone on campus to wear masks when indoors.
The university system, which comprises 26 public universities across the state and enrolls roughly 330,000 students, announced the new guidelines July 6.
The rule became effective July 15 and is meant to encompass faculty, staff, students, employees and visitors.
The new rules require face coverings while "inside campus facilities/buildings where six feet social distancing may not always be possible" but face coverings are not required in someone's own dorm room or "in campus outdoor settings where social distancing requirements are met," according to an announcement on the university system's coronavirus update page.
"Anyone not using a face covering when required will be asked to wear one or must leave the area. Repeated refusal to comply with the requirement may result in discipline through the applicable conduct code for faculty, staff or students," the system's guidelines state.
Greg Trevor, a spokesman for the flagship University of Georgia campus, told The College Fix officials are preparing for a return to campus this fall.
"All members of our community should take responsibility for their actions and adhere to guidelines of the GDPH, the CDC, as well as guidelines issued by the USG and UGA to protect themselves and others while helping to contain the spread of the COVID-19 coronavirus. Voluntary compliance is critical," he said via email.
When asked how the university planned to enforce the mask mandate, Trevor told The Fix that "COVID-19 Student Educational and Response Team (CO-SERT) is a temporary collaborative team at UGA, charged and led by Student Affairs, to provide a central point of contact, review, and response or referral on identified questions and concerns involving students and COVID-19 health and safety guidelines."
Trevor also cited a guide describing the new CO-SERT team. One of its powers is to utilize for rule breakers some sort of "temporary hold to support an educational response or referral."
MORE: Tulane pledges to punish students who break coronavirus party rules
The decision by the system to mandate masks came after public pressure from the United Campus Workers of Georgia and the American Association of University Professors' Georgia affiliate. Both groups publicly advocated for an all-encompassing mask mandate.
The United Campus Workers, which represent staff across the UGA system, collected thousands of signatures in support of a mask mandate, according to a Change.org petition.
"Masks will be provided and required for all of the campus community," the petition stated. "Faculty, staff and students will collaborate on COVID-19 prevention enforcement procedures without involvement of the campus police."
The petition did not want campus police involved in enforcement, however: "Given the disproportionate impact of COVID-19 as well as policing on communities of color, especially Black communities, this policy is a bare minimum to make the verbal commitment to diversity and equity on our campuses concrete."
The United Campus Workers of Georgia did not respond to multiple requests from The College Fix for comment on how it wanted the mask mandate enforced without the use of campus police or if it had any concerns about their own members being disciplined for not wearing masks.
We couldn't have done it without the students, parents, faculty, and staff who have called, emailed, and pushed the Board of Regents. Thank you. pic.twitter.com/ERWwLvoLQM

— #MaskOn USG (@Masks4Usg) July 6, 2020
The AAUP, which represents professors and teaching assistants in the University of Georgia System, also advocated for the mask mandate.
Matthew Boedy, a professor at the University of North Georgia and the president of AAUP's Georgia affiliate, wrote in the AAUP's Academe Blog on June 25 that the union organized over email to support a mask mandate, including reaching out to the university system's chancellor.
Asked about potential harassment or discipline of faculty members who decline to wear masks, Boedy told The College Fix in an email he does not think it will be a problem.
"I do not fear and have heard from no faculty who fear being harassed," Boedy wrote in his response to The College Fix.
Asked whether the university should have students provide medical documentation to prove they cannot wear a mask, Boedy said the point is "moot."
He said guidance from the university system said "reasonable accommodations will be given to those with health conditions."
"In other words, they will teach or take classes online and not be on campus. So your question about whether people should have to give reason not to wear mask is more a question of whether reason is needed to teach or study online," he told The Fix.
He also said that in regard to the punishment for rule breakers, "the school will have to find appropriate punishment and also have them not near others."
He said he "would like to see the mask mandate enforced fairly and consistently," and pointed The College Fix to a guidance released by the University of North Georgia, which stated that people should report one another to the dean for not wearing a mask.
"I think we all can work together on masks," the professor and union rep said. "I trust my students and my students trust me. It may take a day or two but I think the mask mandate will go well."
MORE: Kids rarely transmit coronavirus, so we shouldn't make them wear masks
IMAGE: Halfpoint / Shutterstock
Like The College Fix on Facebook / Follow us on Twitter