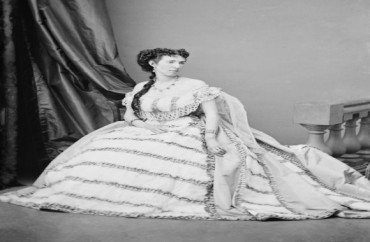 Writing in the Washington Post, Elizabeth Boyd, a research associate in American Studies at University of Maryland, says it's time to "remove the Southern belle from her inglorious perch."
"Southern belle performances routinely staged on campuses across the South," she writes, "constitute choreography of exclusion."
In such campus productions, "young white women serve as signs of nostalgia for a bygone, segregated South and all its attendant privileges," she adds.
In highly stylized renditions of femininity (which differ markedly from their day-to-day routines and visage), otherwise thoroughly contemporary collegians demonstrate their ability to "do" white Southern womanhood: the attire, the manners, the demeanor, the shared references and, above all, the lineage. Such performances stun with their continued ability to consolidate privilege and fly under the representational radar where masculine symbols have all but vanished. Discounted but powerful, these belle performances may not stem from conscious ill intent, but they are surely racial symbols as much as any noose or flag. And they can be plenty intimidating.

Just think about mainline sorority rush as practiced on most Southern college campuses: from the demure dress code and insider skit scripts to the clubby decor and Old South embellishments to the carefully rehearsed patter about home towns and family trees, the choreography of sorority rush — typically performed large and loud against a backdrop of faux plantation architecture— practically screams to minority applicants, "NOT YOU!"
Boyd attaches her proposal onto what the University of Georgia has already done — banned hoop skirts.
In a response forum at the Post, a writer points out that Northern abolitionists and black women wore hoop skirts: "It is not the article of clothing itself that is offensive, but the purpose for which it is worn," she says.
Hans Bader, a former federal Department of Education attorney, adds that "Southern belle" campus productions are protected by the First Amendment and says:
"Hoop skirts are not even racist or offensive, merely reminiscent of the antebellum era and an essential part of Civil War reenactment. Banning them makes as little sense as banning powdered wigs or mint juleps or censoring hoop-skirt images in artistic productions."
h/t to Joanne Jacobs.
Like The College Fix on Facebook / Follow us on Twitter
IMAGE: Shutterstock