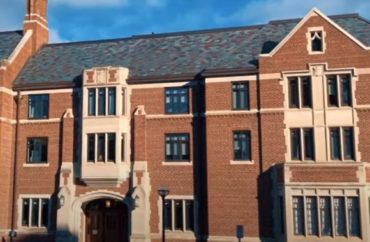 Only one professor provided insight on the funding
The University of Michigan recently announced that it planned to spend more than $260,000 on projects aimed at "combating racism."
The flagship Ann Arbor campus of the University of Michigan system announced the plans in an October 1 news release. "More than $260,000 total will be awarded to six action-based research projects," the news release stated. The grants are "part of the inaugural 'Confronting and Combating Racism' grants."
"These research projects are an important part of the university's work to examine systemic racism," said Susan Collins, provost and executive vice president for academic affairs.
Collins said "they will deepen our understanding of the multifaceted effects of racism and contribute to finding ways to address it."
University officials announced a total of six new projects but did not provide any further details on the allocation of the funds or timelines. The university's media relations office did not respond to multiple emailed requests for comment in the past week from The College Fix. The Fix received an out-of-office response for Collins.
Only one of the six professors emailed by The Fix responded with further information on funding and the priorities of the project.
An education professor at the University of Michigan-Flint campus said she received just under $50,000 for her research into addressing racism in Genesee County, where Flint is located. Her project is called "Beyond Rhetoric: Confronting and Combating Racism in Genesee County, Michigan."
"We requested and received $49,984.40," Professor Lisa Lapeyrouse told The Fix via email.
Lapeyrouse said the "major benchmarks of success" are a "development of a county-wide strategic plan to dismantle and eliminate racist policies and practices in Genesee County, Michigan" and a "website that will act as a repository of best practices for dismantling and eliminating racist policies and practices for those in our community and beyond."
MORE: Public university won't provide budget or details for new 'Anti-Racism Institute'
In June, Genesee County's Board of Health declared racism a "public health crisis," according to Michigan Live.
The school's public relations office explained some of the broader goals in its release.
University officials explained the research "aims to address challenges such as systemic oppression, organizational exclusion, institutional discrimination, neglectful policy" as well as "violence against the minds, bodies and cultures of people of color."
Other projects include a project titled "Virulent Hate: Anti-Asian Racism and Resistance During the COVID-19 Pandemic," by Melissa Borja, an assistant professor of Asian/Pacific Islander American studies.
Another project from political science professor Jowei Chen is called "Democracy's Denominator: How Citizenship-Based Redistricting Impacts Racial Minority Voters." The Fix received an out-of-office response for Chen.
Maisie Gholson, an education professor, will investigate "The Study of Black Families' Response to COVID-19 in the Support of Mathematics Learning." Other projects include research into police body camera footage and another project titled "Detroit River Story Lab."
Luke Shaefer, a professor at the school, explained why he supports the research program in the university's news release.
"We know, historically, people in power often designed those systems to benefit white people while disadvantaging people of color," the professor of social justice and social policy said.
"We need to confront that legacy of racism in order to create a more equitable and just society" and these projects "will help us better understand how to do that important work."
The Detroit Free-Press reported that professors and students at the University of Michigan have previously criticized the administration, including President Mark Schlissel and Provost Collins, for approaches to issues such as graduate student relations, Big Ten football, and a withdrawn plan to task armed law enforcement officers with enforcement of university coronavirus rules off-campus.
The concerns were raised in a September virtual townhall. The university also faced criticism for its handling of decades of sexual misconduct allegations against a former provost, Martin Philbert.
MORE: University of Michigan bans students from campus unless they quit their jobs
IMAGE: Jack Liu/YouTube
Like The College Fix on Facebook / Follow us on Twitter