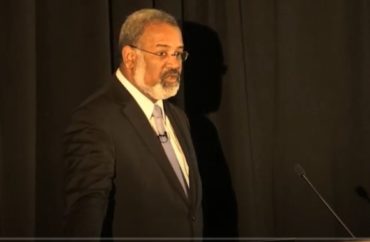 Provost Martin Philbert allegedly had sex with women in his office, proposed threesomes
The University of Michigan recently announced that it would bring in experts to help it improve its system for reporting sexual misconduct behavior after a report found that the university regularly failed to hold its former Provost Martin Philbert accountable.
"We, as a university, failed on many levels, as this individual advanced through the administrative ranks," the Board of Regents said in an August 17 statement provided to The College Fix via email.
The Board of Regents said it "must now create a culture where reports will be heard and lead to appropriate action, without fear of retaliation and where sexual misconduct is not tolerated."
The report noted several examples where colleagues of Philbert heard of sexual misconduct complaints but did not report him due to concerns about job security.
The board said the "independent experts" will "support the president and university through this time of necessary change."
The president of the university, Mark Schlissel, said in his written statement published August 3, "The university has fallen far short of creating a culture that rejects harassment and misconduct and ensures that no one in our community fears retaliation for reporting."
Decades of allegations
The 94-page report released on July 31 by law firm WilmerHale identified numerous times where university administrators and professors were made aware of sexual misconduct claims about Philbert. The school continued to promote him, culminating with Philbert leaving the university in June as a tenured professor and a provost.
WilmerHale conducted the investigation after the public university in Ann Arbor placed Provost Philbert, who taught in the School of Public Health, on administrative leave in January 2020 due to allegations of sexual misconduct.
The report shows a history of claims of sexual misconduct starting in the late 1990s when Philbert started working at the university. It also shows that the university was made aware of the allegations against Philbert since at least 2003.
"[W]hile he was an assistant professor, an associate dean, Dean of SPH, and Provost—Philbert sexually harassed multiple members of the University community, including both graduate students who worked in his research lab and University employees," the report said.
MORE: School sued after dean allegedly pressured student into three-way sex
"Some allegations and other information about Philbert's conduct reached University officials; others never came to their attention."
The first time university officials appear to have received a documented complaint against Philbert occurred in 2003. The school's provost at the time learned that Philbert had laid off a male lab employee due to budget cuts but kept a female lab employee who he was allegedly having an affair with at the time.
The law firm stated in its section on university's knowledge that "we found that the University received information about Philbert's conduct at various times over the course of more than fifteen years" a time period that included "key periods when he was under consideration and later selected for senior positions within the University."
"During the entire period that Philbert was a University employee, the University had legal obligations to respond to sexual misconduct complaints against employees," the report stated.
From 1995 to 2004, Philbert oversaw a lab for the university, which included managing a team of about ten people. He also taught classes.
Some individuals interviewed said he "had a reputation for making comments about women's bodies or about sex." Additionally, Philbert allegedly proposed a "threesome with one of the women and her partner," the report stated. [It does not state what year that proposition was made].
However, at no time up until 2003 did students or faculty appear to report Philbert for his behavior. One unnamed faculty member encouraged a student to report Philbert to the Office of Student Affairs but the law firm found no record of the student filing a report.
Another faculty member who remembered Philbert making comments to him about women's breasts said he did not report Philbert because he "believed his career advancement depended on the support of his fellow faculty," the report stated.
Fellow professor investigated Philbert
In 2003, a male lab employee reported Philbert to the human resources department after he fired him due to budget cuts. The employee alleged that Philbert fired him because of his age and because Philbert was in a romantic relationship with a female lab employee.
A staff member in the provost's office told the human resources department to "be sure to treat the senior faculty member very carefully," according to emails obtained by WilmerHale.
A fellow School of Public Health professor, where Philbert taught, investigated the issue but found no evidence of inappropriate action. The male lab employee filed a lawsuit afterward but settled. Philbert and the female employee both testified under oath that there was no romantic relationship.
A research assistant and a graduate student reported Philbert for kissing them to a School of Public Health. The research assistant also said that Philbert, who is black, made a comment to her about making "caramel colored babies."
The complaints were reported to Anthony Walesby, the Office of Institutional Equity director at the time, Vice Provost Lori Pierce, and Ken Warner, the former dean of the School of Public Health and a professor emeritus at the university.
Warner told The College Fix via email that he didn't have "anything more to say about this awful situation, except to point out that I never promoted him nor had any role in doing so." According to the report, Warner was told multiple times about the allegations against Philbert.
No investigation was opened "because the two potential complainants declined to file a formal complaint or to otherwise participate in an investigation," the report stated. However, the law firm concluded that campus officials "should have taken further steps to investigate Philbert in 2005."
Officials knew of the allegations, but promotions continued
In 2010, the university considered Philbert for the top dean position at the School of Public Health. Despite numerous complaints about Philbert, including that he made inappropriate comments about women and urinary tract infections, the school named him a dean.
In 2017, despite numerous allegations and multiple university officials being aware of complaints against Philbert, the university named Philbert the provost.
The report stated that the allegations against Philbert were never raised to the committee choosing the next provost.
"At no point during the Provost search process did the Committee as a whole, or President Schlissel individually, learn any information about Philbert's problematic conduct toward women," the report said.
Officials that knew of the allegations by now included former Provost Phil Hanlon, former the Office of Institutional Equity Director Anthony Walesby and Lori Pierce, a vice provost at the university.
Hanlon and Pierce did not respond to multiple emailed requests for comment from The College Fix over the past week. Hanlon is now the president of Dartmouth College, where his conduct regarding Philbert is now under fire. Ken Warner, the former dean of the School of Public Health did not respond to an emailed request for comment on Wednesday.
Walesby no longer works at the University of Michigan. A public resume for Walesby lists him as working at Illinois State University, but the school said he no longer worked there and worked at Michigan State University. A spokesperson for MSU said Walesby never worked at the school.
His resume does not list any contact information.
Rick Fitgerald, the University of Michigan spokesperson, said that Philbert is no longer an employee in response to a request for contact information for Philbert.
A toxicology education website lists Philbert as a faculty member.
A message sent through the site's page seeking comment from Philbert was not replied to this week.
The group did not respond to a question on if Philbert still works there.
MORE: Jury to decide if U. Michigan ignored gay professor's sexual harassment
IMAGE: Boston University School of Public Health/ Youtube screenshot
Like The College Fix on Facebook / Follow us on Twitter