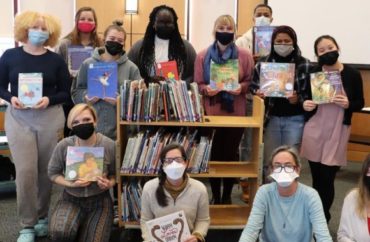 Removal of literature is at odds with library association standards
Self-described "co-conspirators" at the University of Minnesota Duluth are working together to target "racist" representation and literature in children's books.
Professor Suki Mozenter teaches education at the public university and has been removing books since she formed the Antiracist Literary Advisory Board in 2020.
"We are committed to doing anti-racist work and dismantling structural racism on campus through the evaluation of the children's literature collection," A-LAB (pictured) wrote in a recent Instagram post.
It removes books from the campus library and local elementary schools in addition to adding books it finds more racially sensitive.
The group wants to "strip libraries of racist representation in children's books with the help of students," according to the Duluth News Tribune.
"The children's collection at the (Kathryn A. Martin) library (at UMD) currently holds several problematic texts and it doesn't reflect the racial diversity we'd like to see in a children's literature collection," Mozenter said, according to the local paper. "So, rather than just talking about the importance of representation, let's do something about it."
Monzenter did not respond to a request for comment sent in the past week that asked how many books had been removed, from what libraries and how many students and staff are involved.
The College Fix contacted three of UMD organizers, Insoon Han, Kayleen Jones and Ariri Onchwari, with the same questions but did not receive a response to emails.
The Fix also asked how their efforts compared to those of conservative activists to remove books from public schools and libraries that contain pornographic or sexually inappropriate content, as well as content that covers race from a slanted angle.
Professor Onchwari previously said that even babies can do "anti-racism work."
"Most people think we can't do anti-racism work with children," the early childhood education professor said. "Children need to understand color when they are concrete thinkers."
Removal of books seems at odds with library association standards
Several library associations condemn the removal of books.
For example, the Minnesota Library Association says its advocacy goals include "opposing library censorship."
It did not respond to inquiries sent to its listed email that asked about the specific efforts at University of Minnesota Duluth and if it would release a statement in support or against the initiative.
The American Library Association sponsors an annual "Banned Books Week" and released a survey in March 2022 that found most voters opposing banning books in libraries.
"The survey results confirm what we have known and observed: that banning books is widely opposed by most voters and parents," Patricia Wong, the association's current president stated. "I'm thrilled to see that parents have a high degree of confidence in school libraries' decisions about their collections and very few think that school librarians ignore parents' concerns."
The ALA has not responded to several emails sent in the past two weeks to its media relations team asking about its position on such efforts.
Its newly elected president, CUNY librarian Emily Drabinski, said she wants to fight "books bans."
Drabinski did not respond to an email on April 21 from The College Fix that asked for comment on UMD's book removal and if she planned to encourage or discourage the ALA to take a position on removing potentially offensive books.
MORE: University of Minnesota librarians release anti-racist research guide
IMAGE: ALAB/Instagram
Like The College Fix on Facebook / Follow us on Twitter