Joe Biden presumes the guilt of accused students, exempts himself
It's not a stretch to say that Joe Biden has done more to change how colleges and universities address sexual assault than any other individual.
Even before he was elected vice president, Biden told candidate Barack Obama that he wanted a staff of his own to work on violence against women, the subject of his successful 1994 legislation.
His fingerprints were all over the Obama administration's "guidance" documents on campus sexual misconduct, which warned colleges their federal funding was at risk if they didn't lower evidence standards and withhold basic protections from accused students.
Agree with him or not, Biden's zealous approach to campus sexual assault would be unsurprising if his personal behavior reflected his advocacy.
Yet Biden's personal behavior is precisely why his advocacy is jarring. No public official in America has been caught more often manhandling women in front of the cameras, including strangers and minors, seemingly oblivious to the "creepy" optics.
You might have thought that the University of Pennsylvania would carefully consider those optics before naming a research center after Biden and giving him a prestigious professor title.
It did not, and for two years, the Washington-based Penn Biden Center for Diplomacy and Global Engagement has benefited from the stature of its namesake. Penn's main campus has also drawn frequent visits from the "Benjamin Franklin Presidential Practice Professor," according to The Daily Pennsylvanian.
Then Lucy Flores came along. When the former Nevada assemblywoman publicly accused Biden of inappropriate touching at a political rally, soon followed by similar allegations from other women, Penn had a chance to show that it treats all sexual misconduct allegations seriously.
It could have launched an investigation into Biden's long history of intimately touching women in public, using the voluminous photographic evidence to track down women for interviews.
It did not. In fact, the Ivy League university has stonewalled The College Fix for more than a month about why Biden's name remains on the research center when it swiftly removed all traces of another Penn figure accused of sexual misconduct. A Penn spokesperson did not respond to interview requests for this article.
Now that Biden has taken leave from the Penn Biden Center and his other Penn commitments to focus on his presidential campaign, the university can more easily maintain its silence.
Its tacit approval of Biden's behavior even suggests a way for "creepy" public figures to protect their reputations. First, relentlessly advocate for guilt-presuming policies on sexual misconduct, from college to the workplace. Second, limit your questionable touching to situations in full view of everyone.
MORE: Penn silent on whether it will rename Penn Biden Center
Earn the presumption of innocence by denying it to everyone else
Penn's response to allegations against alumnus Steve Wynn could not have been more different. It took four days to fully distance itself from the casino magnate last year after several women accused him of sexual harassment.
Unlike Biden, Wynn's value to the campus is his money, not his name. The 1963 graduate has donated more than $7.5 million to his alma mater and formerly served as a trustee.
Because of his longtime generosity, Wynn's name adorned the common area outside Penn's Houston Hall and a scholarship fund. Penn swiftly removed his name from both and rescinded his honorary degree.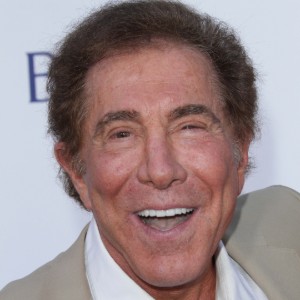 Explaining their alacrity, President Amy Gutmann and Board Chair David Cohen told the community the "nature, severity, and extent of these allegations" compelled the university to disown Wynn (left) before even a rudimentary investigation had begun..
Wynn might have earned the presumption of innocence from Penn if he had followed Biden's lead, loudly denying the presumption of innocence to men at large.
The 76-year-old statesman has spent much of his later career convincing the American public that anything less than full acceptance of every woman's accusation is rank misogyny.
Biden became a celebrity of the anti-sexual assault movement known as It's On Us, which grew out of a 2014 White House initiative. He frequently spoke on college campuses; the University of Illinois shelled out $30,000 just to build bleachers for his audience and buy It's On Us swag.
In conference calls with activists, Biden reached for the most inflammatory language he could summon to describe those who trust evidence over emotion.
Less than a month after the deadly events in Charlottesville in 2017, Biden compared advocates of campus due process to the "Nazis" who rallied for white nationalism. He told student activists to weaponize shame against administrators who might otherwise ask for evidence of sexual assault.
MORE: Penn scrubs Wynn's name, keeps his millions in donations
During the Obama administration, Biden called on the Department of Education to "take away their money" if colleges didn't zealously comply with its "guidance" documents on sexual misconduct, which never went through a regulatory rulemaking. When the Trump administration opened its own rulemaking, Biden called it an attack on Title IX itself.
Now that Biden is facing detailed accusations from several women, he has extended himself the benefit of the doubt that he has long deprived less privileged men on campus, particularly racial minorities.
Even Flores, his first accuser, has conceded that Biden is "not a sexual harasser or assaulter," but just a privileged man who commits "uninvited and unwanted intimate behavior in professional settings."
If that's the case, Penn should have no trouble explaining why Biden deserves an honored place on campus while Wynn deserves erasure. The university should be able to tell me that Biden's behavior was in a gray area, subject to interpretation, and that his intent was not malevolent.
There's only one problem. It might have to explain to Penn's law faculty, a third of whom are openly critical of its sexual misconduct procedures, why it doesn't extend the same grace to accused students.
MORE: Biden compares advocates of due process to 'Nazis'
MORE: Roll Call/YouTube
Like The College Fix on Facebook / Follow us on Twitter