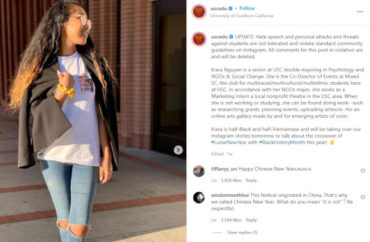 A student at the University of Southern California is under fire after botching some details of the Chinese Lunar New Year in an Instagram post celebrating the holiday.
The USC Communications School, noting the Chinese Lunar New Year and Black History Month both began on February 1, reached out to MixedSC, a self-described "social community created to connect multiracial students at USC," to see how the school could pay tribute to both events at once.
"I thought it was a cool opportunity to speak about my experiences, especially in light of recent events — the pandemic, [the Black Lives Matter movement]," said MixedSC co-director of events Kiara Nguyen in an interview with The Daily Trojan.
But soon Nguyen, who is half black and half Vietnamese, found herself in hot water, fending off personal attacks and threats online.
Nguyen recorded several videos and posted them to the USC Instagram account as part of a "takeover" promotion. But the videos quickly riled community members on campus, with some pointing out misstatements made in Nguyen's talks.
In one video, Nguyen says the term "Chinese New Year" is incorrect, leading some Chinese students to complain she was trying to erase the Chinese origins of the holiday. Another video, taken at a MixedSC meeting, showed a presentation with the word "Chinese" struck through with a red line and replaced by the term "Lunar."
"I misspoke," Nguyen told the paper. "What I was trying to explain was that Lunar New Year was an inclusive term. You wouldn't say 'Happy Chinese New Year' to your non-Chinese Asian friends."
Further, Nguyen mistakenly said the name for red envelopes handed out during the Lunar Year, "li xi," is a Vietnamese term. It is actually Cantonese.
The USC Chinese Students and Scholars Association, a group sympathetic to to the Communist government in Beijing, began an online petition urging USC to "Readdress USC's Inaccurate Annotation on Chinese New Year." The group took exception to USC deleting comments on the original Instagram account, arguing commenters were "simply trying to reason with the original post."
But USC posted a warning on the original video, telling commenters they would be editing the reactions to the post.
The Daily Trojan obtained a number of the attacks against Nguyen, which called her the "n-word," and "other racist, derogatory names."
"Hate speech and personal attacks and threats against students are not tolerated and violate standard community guidelines on Instagram," the school said. "All comments for this post in violation are and will be deleted."
Nguyen also edited the original post to clarify her comments.
Nguyen told the paper she believes she would not have received the level of hate she did if she were not half black.
"It's always 'Black people are playing the victim' when they talk about injustices," Nguyen said. "It's been … frustrating to see people denying the fact that I'm being called slurs, and also denying my identity as an Asian woman. As a mixed-race person, I've had to deal with the invalidation so often — I'm tired at this point."
The Chinese Lunar New Year issue has recently proven to be problematic for a number of schools, with Duke University and Syracuse University both offering apologies for referring to Tibet as a country separate from China when urging students to celebrate the holiday.
Read more here.
MORE: Syracuse U. dean apologizes for email calling Tibet a country separate from China
IMAGE: USC/Instagram
Like The College Fix on Facebook / Follow us on Twitter