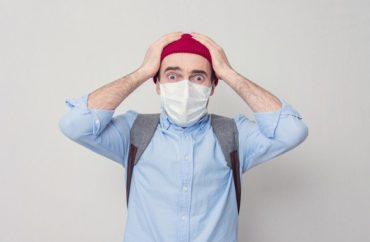 Doesn't have to go through policy review because it's 'administrative'
University of Texas-Austin students who have trouble breathing through masks for more than a short grocery shopping trip might want to take a gap year.
The taxpayer-funded institution is promising to punish students who don't wear masks inside buildings, The Daily Texan reports. The only exception mentioned by Ark Markman, head of academic planning, was "staff members alone in an office and taking a break while maintaining social distancing."
Anyone else – students, faculty or staff – who does not wear a mask at all times while inside buildings will be subject to disciplinary procedures, according to Markman. (The article does not mention the rules for dorms.)
Students should brace themselves for the likelihood that they'll spend several hours a day in masks just going to class. At least 79 percent of classes will meet in person this fall, interim President Jay Hartzell told the campus Wednesday. (They don't include the 400 largest classes, which have been moved to online only.)
MORE: LA County schools require students to wear masks 'at all times'
Asked how a policy at a taxpayer-funded university that involves disciplinary proceedings could be finalized and implemented without a public review process, Director of Media Relations & Issues Management J.B. Bird told The College Fix:
This is an administrative decision, like many of the operational rules of campus, delegated to the president by the Board of Regents. It's being adopted as a response to the temporary conditions of COVID-19.
The wording of his email suggests masks might not remain required for the entire semester, which will end at Thanksgiving:
As a safety measure, at the beginning of the fall semester the university will require people to wear masks in most places within university buildings, in keeping with medical guidance, Texas Department of State Health Services guidance, and the current CDC recommendations on preventing the spread of the virus. The university will not require masks in outdoor spaces of the campus but will recommend them. The university is working out additional details of implementing the rule, which will come out later in June with the complete fall plan.
MORE: Contrarian Liberty U. ends semester with zero COVID cases
IMAGE: Anastasiya 99/Shutterstock
Like The College Fix on Facebook / Follow us on Twitter