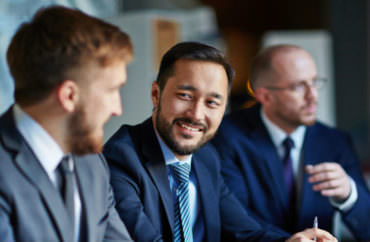 Looking for the best and the brightest is no way to hire. It harms minority groups.
This message is promoted by the Office of Inclusive Innovation and Entrepreneurship at the University of Texas-Austin, which was launched last month to tackle "the income inequality gap for overlooked communities."
It's intended to facilitate entrepreneurship among "underrepresented founders" so that "new for-profit sustainable ventures can be launched that will uplift communities."
In order to do this, companies must move away from a "meritocratic way of hiring," which is a "problem":
The major issue with this approach is that if you limit your scope to a certain segment of the population and claim that is all the talent you can find, of course, you are going to remain blind to highly talented diverse candidates who often graduate from non-ivy league, non-traditional institutions. Companies have been delegating diversity as an afterthought and only now are they giving it more of a second look. However, there are new companies who understand the importance of diversity, are nimble, and not entrenched in old systemic thinking. They are the companies creating opportunities for diverse talent to drive new innovations and initiatives. Those who embrace immigrants also see a huge drive in return on investment. We inherently cannot have an innovative company that is not committed to bringing innovators from outside of their circle of influence.
MORE: UT-Austin diversity personnel cost $9.5 million a year
The office doesn't explain how failing to look for job candidates who merit consideration is a problem of meritocracy, as opposed to an absence of meritocracy.
It was launched by Leonard Moore, UT vice president for diversity and community engagement, to "serve as a bridge and an example for the entire community on how both private and public interests can work together to address the disparity and inequity wealth gap between communities."
The page was highlighted Monday by Stop the Insanity at UT, a Facebook group started by UT law graduate Mark Pulliam in September to highlight "the speech codes, diversity team, and professor quotas" at his alma mater.
The University of Texas has discovered the key to income inequality and other economic disparities in America: meritocratic hiring. This is an actual quote from the UT website: "The problem is that in the past companies have advocated for a meritocratic way of hiring."

— Mark Pulliam (@MisruleofLaw) November 12, 2018
Yeah. Can you imagine any system where hiring and advancement or even selling and buying was based on merit or quality. Oh the horror!! @seanhannity @MarkDavis @RedNationRising @RNRTexas @McAllisterDen @tedcruz @chiproytx @DanPatrick https://t.co/pou4xGYHmV

— Andrew D. Leonie (@ADLeonie) November 12, 2018
Read the office's "about" page and launch announcement.
MORE: Fed up UT alum starts 'Stop the Insanity at UT' group
IMAGE: Pressmaster/Shutterstock
Like The College Fix on Facebook / Follow us on Twitter