Department of Education had to be convinced an 'African American' only program could be discriminatory
A University of Utah program that is only open to black students has drawn the scrutiny of the federal Department of Education.
The Office for Civil Rights has a pending investigation into the "African American Doctoral Scholars Initiative," according to a letter provided to The College Fix by Professor Mark Perry, who filed a complaint against the university.
Perry regularly files complaints against programs that potentially discriminate on the basis of race or sex.
The program, "provides a scholarly community and educational services for African American doctoral students," according to the university. The program also provides scholarships to "full-time African American" students who "demonstrate a commitment to understanding Black life, history, and culture in the United States." It has been in operation for five years.
The school further stated that the initiative "creates a multidisciplinary, critical mass of African American scholars dedicated to the eradication of institutional and systemic racism and oppression by addressing the inequities endured by African American people."
The University of Utah declined to comment to The Fix because the issue is pending. A DOE spokesperson confirmed that "there is an open investigation into the University of Utah under Title VI of the Civil Rights Act of 1964, which prohibits discrimination based on race, color, or national origin in programs or activities receiving federal financial assistance from the Department of Education," but did not elaborate further.
Perry, professor emeritus of economics at the University of Michigan-Flint, alleged that the "black-only" program is "racially discriminatory" in nature and is thus in violation of "Title VI's prohibition of discrimination on the basis of race and color."
MORE: New UC Riverside environmental program aimed only at Latinos
An OCR investigator first asked Perry if he was "aware of any individuals who attempted to apply to or participate in this initiative and were not permitted to do so on the basis of their race or color," according to emails Perry shared with The Fix.
He wrote that "no non-African Americans would ever engage in [an] unproductive 'exercise in futility' by applying to this program that so clearly and explicitly discriminates on the basis of color and race."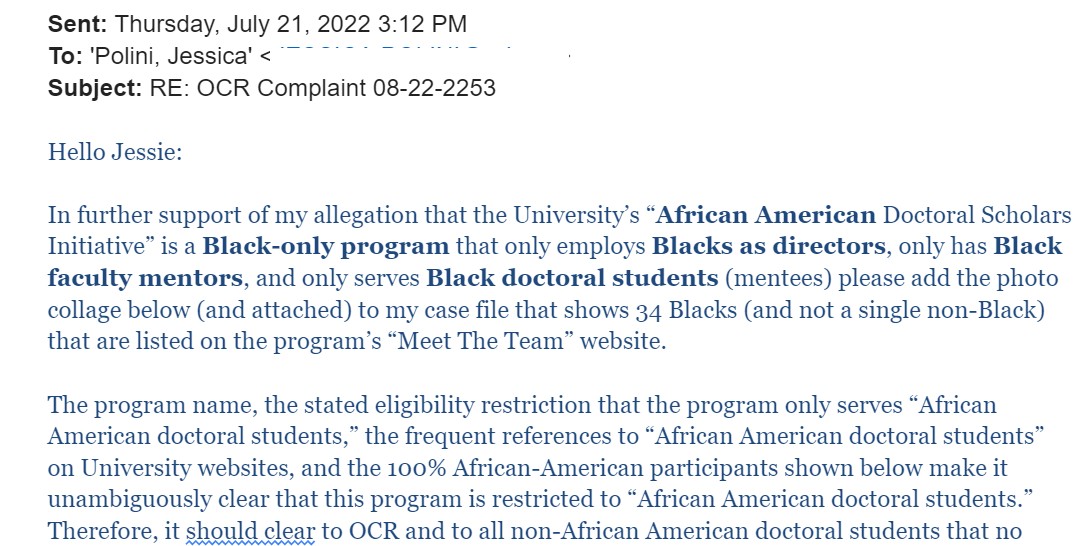 Perry also provided evidence (pictured) showing that all of the program's directors, faculty, and students are black and told the OCR that he is "confident that if there were a white-only equivalent program 'White American Doctoral Scholars Initiative' (no non-whites need apply) that OCR would correctly consider that to be a facial, per se violation of Title VI." He created the composite image based on the public photos of the participants in the program.
"I am requesting that the University convert this program from Black-only to being open to students of all races and colors to comply with Title VI, and remove all references to 'African American' in the program name and description," Perry wrote.
Perry told The Fix that for the last three years he has been a "higher education watchdog" and has "worked full-time exposing the many violations of federal civil rights laws in higher education."
"All individuals are protected by federal civil rights laws against illegal discrimination on the basis of race, color and national origin," he wrote. "An individual's race or color is not supposed to help or harm them, and in fact it's illegal for an individual's race or color to help or harm them in higher education."
Perry believes that excessive diversity, equity and inclusion efforts have led to "widespread and systemic sexism and racism at US colleges and universities." He noted that "even under the Biden administration, some schools are being held accountable for their violations of federal civil rights laws."
According to Perry, "there are some legal limits to the Diversity, Inclusion and Equity (DIE) efforts that have infested higher education like a cancer."
MORE: Seven Michigan Tech programs discriminate against males: Title IX complaint
IMAGE: Mark Perry compilation
Like The College Fix on Facebook / Follow us on Twitter